Nowadays, traditional marketing alone is not enough. You also need to include digital marketing in your overall marketing strategy and campaigns to be successful. But what exactly is digital marketing?
Digital marketing describes a series of activities that use online marketing channels and strategies to achieve various marketing objectives. Those channels include paid, owned, and earned media.
Digital marketing is vital today because, based on a recent study, it was found that, globally, 3.3 billion people are active on social channels, especially social media.
To further highlight its importance, 72% of customers want their favorite brands to share information about promotions and discounts on social media, and 64% of them feel more influenced after watching branded Facebook videos.

A company that has successfully utilized digital marketing campaigns is Uniqlo. They launched a campaign that worked with 100 of their physical stores. Customers were told to take photos of billboards, which have a five-digit code. Then, customers can go to their website and use the code for a clothing sample.
As a result, over 4 million people were reached with this campaign, and Uniqlo gained 35,000 new customers.
In this article, we'll break down the difference between a digital marketing strategy and a campaign. We'll also discuss why you need a digital marketing campaign, how to create one, and what makes it effective.
Let's get started.
Digital Marketing Strategy vs Campaign: What's the Difference?
So, what is a digital marketing strategy? Well, it is a plan that helps your company achieve specific business goals by using carefully selected online marketing channels like earned, paid, and owned media.
While digital marketing campaigns are the plans and actions in your digital marketing strategy that help you get to the end goal.
Let's say that your digital marketing strategy's overall goal is to generate more leads through social media. You might run digital marketing campaigns on Twitter, Instagram, Facebook, and other social media marketing to make it happen.
An online marketing strategy will usually have the following elements:
The segmentation study – Analyzes the target audience to establish the best products or services, communication methods, and sales opportunities.
Clear organization value proposition – Clearly identified unique selling points.
Different marketing approaches – Different campaigns used for different platforms and channels.
Establishment of KPIs and analytics – Used throughout the lifespan of the strategy in order to measure how well the strategy is working.
Whereas a marketing campaign will usually contain the following elements:
Specific marketing activities – Basing it on a particular ROI will help create activities on individual channels with different budgets and objectives.
Specific marketing approach – Whether it is through engagement-led or on-demand marketing.
A clear connection – an underlying message between each message, initiative, and channel.
Strong visuals and engagement mechanics – no matter the objective of the campaign.
Why Do You Need a Digital Marketing Strategy?
A digital marketing strategy is a crucial tool for your business because it can help you identify your business's uniqueness and get that message across various platforms to reach your target audience.
By creating an in-depth digital marketing strategy, you can find new opportunities that you haven't fully utilized before.
Here are some other reasons why you need an online marketing strategy:
More affordable – Digital marketing is significantly less expensive than other marketing methods.
It helps you reach people where they spend their time and money – Social media is integrated into everything we do, including studying, working, and entertainment. Digital marketing strategy helps you promote on these platforms.
Allows for a more targeted campaign – By using digital marketing, you can narrow down your target audience and show them ads that they will relate to.
More advanced analytics – You can easily measure how effective your marketing strategies were using an integrated analytics tool.
Easy to scale and adapt – You can easily set your budget on specific ads and use tools to maximize it to the fullest extent. You can also remove or change your strategy with ease should it be deemed ineffective.
Simple tracking – You can monitor which ads or campaigns customers saw before making purchases from your website.
How to Create a Digital Marketing Strategy
1. Create a Buyer Persona
For any marketing strategy, whether it is digital or not, you need to know who you're marketing to. This comes in the form of buyer personas, which represent your ideal customer.
To know your buyer personas, extensive researching, surveying, and interviewing your target audience is needed. Take note that the information should be based on real data and not assumptions about who your audience is, as it can make your strategy go astray.
To do this, you need to gather two kinds of information. The first is quantitative and demographic information:
Location – This tells you where your audience is coming from. You can use tools like Google Analytics to find this information.
Age – You can gather this information through surveys and interviews.
Employment Status – This lets you know whether your audience is working or studying. Receive this information through surveys and interviews.
Income – Know your audience's buying power. Sensitive information should be gathered through anonymous surveys or personal research interviews.
The next type of information is qualitative and psychographic:
Goals – You may already have an idea of your buyer persona's purposes by looking at what problem your product or service solves. To be sure, interview customers, sales, and customer service representatives.
Challenges – Further confirm that your product or service solves the buyer's problem.
Interests – In some industries, it is helpful to know about the customers' interests and hobbies so you can relate them to your existing products and services.
Priorities – Find out what values your audience finds most important. By knowing this, you can focus on delivering those values through your products or services.
2. Identify Your Goals and Tools
Your marketing goals should always help in reaching the fundamental goals of your business. Having no plans means that the strategy you're developing simply won't work because there's no measure of success. So make sure that the goals are SMART.
An example of a measurable goal is to increase conversions on your site by 15% in the first quarter of 2021.
There are plenty of digital marketing tools that can help you create your goal and help advertise your marketing like Simpli.fi and measure the success of your strategy like Woopra.
3. Audit Your Existing Digital Marketing Strategies
It's crucial to audit your existing digital marketing strategies to know what works and what needs improvement. By doing this, you can set up new strategies for success.
Let's say your goal is to increase the conversion rates by 10% in a quarter. From looking at your current digital marketing efforts, you found that PPC ads are the most effective. Thus to help reach your next goal, you should invest more in PPC.
To audit, you should first look at the three types of media that your site uses:
Earned media
It's publicity that comes as a result of your advertising and promotion efforts. Earned media is any type of content made about your company that you didn't create. This can be articles, reviews, and even awards.
You'll want to audit earned media to see how many useful articles and reviews are written about your brand and see what you can do to improve it.
Paid media
It's any media which you pay to advertise your business. This comes in the form of paid advertisements like pay-per-click ads or social media ads.
Audit this to see how well it drives sales to your business. Is it useful in driving traffic and conversions?
Owned media
This is any type of media that your business owns. In other words, it's the media with your name written on it or the media you created. This can be your website, social media posts, and blog articles.
Analyze it to determine how it affects your business and see if there is good engagement from your owned media. If not, how can you improve it?
4. Know Where to Find Users at All Funnel Stages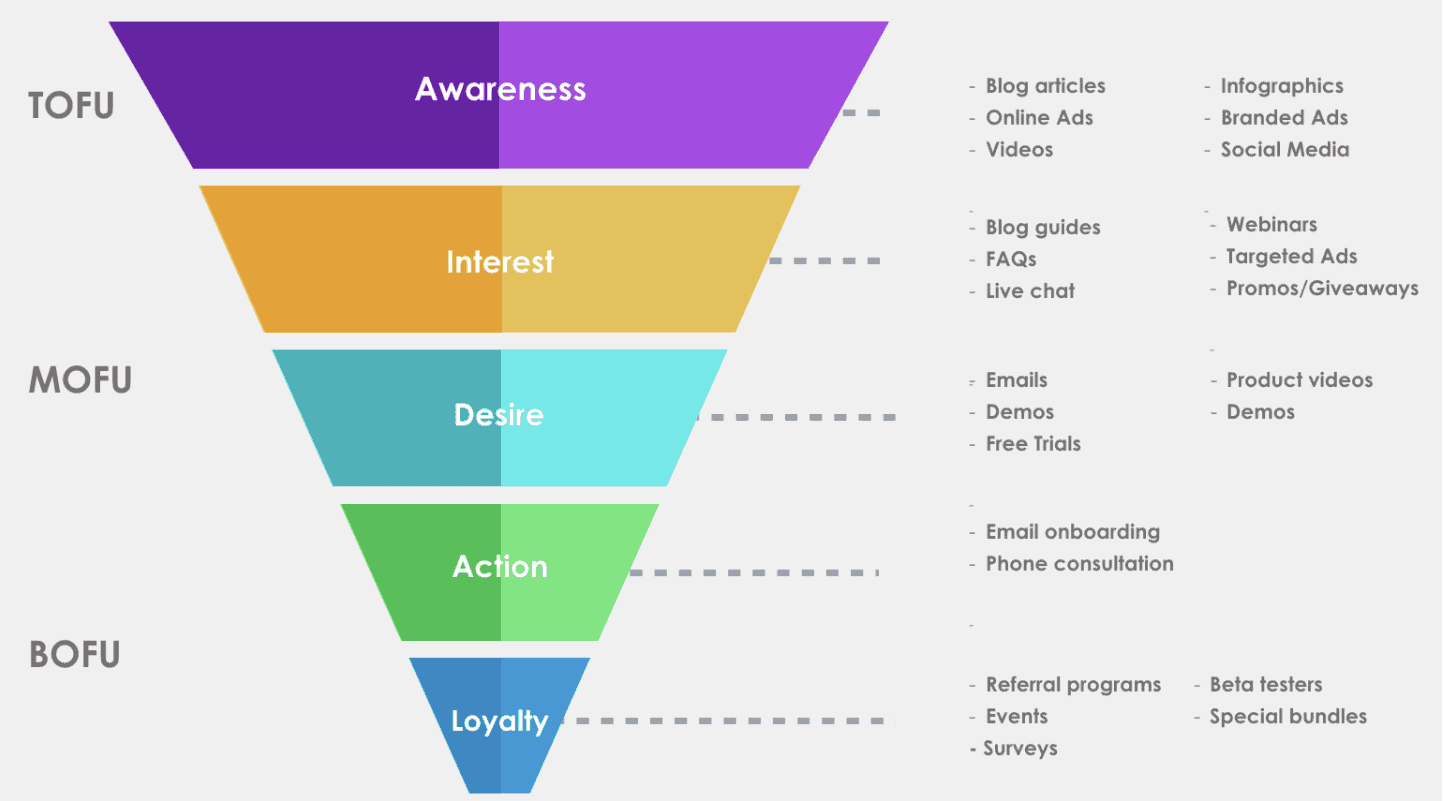 Now that you know your buyer personas, future strategies, and what past campaigns worked for you, it's time to reach out to your customers through various marketing funnel stages.
Let's say that you are a home renovation company. You can do everything from repairing broken sinks to creating the bedrooms of your customers' dreams. There's a good chance that you'll encounter different buyer persons at various stages of the funnel.
Here are a few scenarios of them finding you from different stages:
Awareness stage – One person looking through "bedroom design ideas" could come across your blog post featuring images of your design ideas. This could be how they discover and hire you.
Interest stage – Someone who has a problem with their sink due to overflowing is looking for someone to fix the problem right away. Luckily, your paid ad shows up on a search engine as they search for it.
Desire – Customers were looking for the best home renovator and stumbled upon your videos of the process of how your team renovates a house.
Action – One potential customer goes to one of your exhibitions and asks for direct advice about renovating their home.
Loyalty – A past customer who was thrilled having their bedroom renovated wants to install a security camera because they received an email from you saying they can get a special offer.
Utilize all marketing channels and think about which of your buyer personas are using them and at what stage of the funnel. This can help you determine the media you should focus on as part of your marketing strategy.
Focus on SEO (search engine optimization) as the early stages heavily rely on customers finding you through search engines.
5. Establish Your Budget
The next thing to do before launching your new digital marketing strategy is to establish a budget for your marketing efforts. The last thing you want is a solid marketing plan that is beyond what you're financially capable of.
Create a separate budget for each campaign you're planning to do because if you only have an overall account of all your marketing efforts, you may overspend on one marketing strategy.
Besides budget planning, you should also establish the resources you'll need to run the campaign. One of the most critical resources is people. Determine how many people have to work on specific strategy aspects because you'll need a different marketing team for each campaign.
6. Automated Marketing
Marketing automation is quite a big deal, and it will only get better with new software and technologies. It works by using software to automate marketing activities.
Many marketing departments use this for repetitive tasks like posting on social media. Email marketing campaigns also often use automated marketing, as well as ad campaigns and lead generation.
There are plenty of marketing automation tools that have specific purposes for automation.
Utilize marketing automation whenever possible to create a focused copy for specific buyer personas. They'll receive messages of your campaign at an ideal time and will be more relevant than ever to their needs at that moment.
7. Monitor Your Progress
Of course, like any marketing campaign, you need to monitor your digital marketing efforts to ensure they are working. Since you'll probably have multiple strategies running at the same time, staying on top can be a tricky process.
Try to have dedicated people who perform this task. Analytics tools are a tremendous help here because they can monitor your goals and ongoing campaigns.
For starters, you'll want to monitor how your customers and leads are interacting with the campaigns you made and how they're contributing to helping you reach your goals. For example, you'll want to know if the blog post that was shared 3,000 times generated any sales or not.
Google Analytics is a great tool for monitoring goals. It lets you check the behavior maps it generates where you can see how successful your campaigns are.
What Makes an Effective Digital Marketing Strategy?
There are a few things to pay attention to when creating digital marketing tactics. Not having these factors can lead to the plan becoming ineffective.
Use RACE
Your digital marketing strategy should utilize the RACE framework, which consists of four steps of online marketing activities designed to help brands engage their customers throughout the customer journey with your company. Those four steps are:
Reach – Aims to build brand awareness and visibility of your business, products, or services through using different website presences like your website, microsites, and social media platforms. To do this, you can utilize paid, owned, and earned media as well as pay-per-click advertising and organic website traffic.
Act – Aims to encourage interactions on the channels in Reach, like websites and social media. To do this, you should ensure that the content on your websites, social media, and other channels is compelling and captivating, so visitors feel encouraged to interact with it.
Convert – This stage is where conversion to sale happens. It involves ensuring that your customer takes the next vital step, which will turn them into paying customers. To do this, you can use personalization based on the data gathered from the Act stage.
Engage – Aimed to develop long-term customer engagement and build customer loyalty that encourages repeat purchases. To do this, you can reward them for their dedication, provide vouchers, and special promotions for their next purchase.
Define Your Marketing Objectives and KPIs Using SMART
We tend to generalize our objectives. SMART is a tactic that can help you focus your efforts and increase the chances of achieving your goals. It works by making them more specific as it follows the five criteria below:
Specific

– Clear, well-defined, and unambiguous goals and objectives.

Measurable

– Must have criteria to measure progress toward achieving your objectives. Without it, you won't know if you are on track or not.

Achievable

– Make sure that you have the resources and capabilities to achieve the goals.

Realistic

– Ensure that the objectives can realistically be achieved with the available resources during a specific timeframe.

Timely

– Your goals should be time-bound by having a start and finish date. This is to create a sense of urgency as a motivation to achieve the goals
Build an Effective Funnel
This is a step-by-step process that outlines the customer experience when deciding to purchase a product or service. We're going to look at it from a company's perspective. Generally, it's divided into four parts, which are:
Outreach – Should include activities that promote your company. This can consist of activities like Facebook and Instagram ads, creating a great landing page, explaining videos, infographics, creating a piece of content, and other marketing efforts to gain customers.
Conversion – Ensure that visitors on your site and social media go to the next crucial step: purchase. The activities can include creating prominent call-to-action buttons, creating informational blog posts, and providing special "first buy" promotions.
Closing – Should include activities to gain customer feedback. This can consist of requesting reviews and testimonials, giving out short questionnaires about users overall experience, and giving emails as a thank you note.
Retention – Try to make customers make a repeat purchase by maintaining communication with them. The activities can include providing exclusive offers, email newsletters, contests, and surveys.
Conclusion
In short, here's how you can create an effective digital marketing strategy that will help you monitor and grow your business:
Create a buyer persona
Identify your goals and tools to reach them
Audit your existing digital marketing strategies
Know where to find users at all funnel stages
Establish your budget
Use automated marketing
Monitor your progress
We've also shared some factors that highly influence an effective digital marketing strategy. All that's left for you now is to build your digital marketing strategy and boost your business's sales and conversion rates.
Remember to do extensive quantitative and qualitative research before starting your strategy. If you don't have enough data, you won't maximize your plan to fulfill the target audience's wants and needs.
If you're looking for a digital marketing agency in Canada, My Little Big Web is a good web agency in Montreal. We encourage you to contact them and learn more about what they can offer you.
Good luck!