Website owners aim for high traffic because of several purposes. One of them is, of course, monetization as traffic is needed to sell ad space, for affiliate marketing, e-commerce, and so on.
With traffic, you can also gather insights from your audience, which can be used for content creation to improve your website.
Other than that, it establishes website credibility and indicates success in serving its purpose — to inform, help, or entertain the readers.
Driving traffic doesn't have to be a complicated process as long as you know the techniques to do so. But, keep in mind that they require your consistency and creativity.
Types of Traffic
Before continuing, you'll need to understand the two main types of traffic — organic and paid traffic.
Organic traffic is generated from visitors that open your website directly from search engine result pages, like Google or Bing.
Having high organic traffic indicates the quality of your content and its relevance to keyword searches. Usually, your website will land on top of search engine result pages (SERP). Do keep in mind that it's a slow process and requires dedication, but you won't need to spend a dime.
In contrast, paid traffic refers to visitors that come to your site via promoted links or advertisements that you pay for, like Google Ads campaigns.
You might get instant results, gaining traffic the next day or even on the hour of your ad release. However, you will need a budgeting plan, and the effect doesn't last long. Once the payment stops, your link will disappear from the top of SERP, and your traffic rate might drop.
Read on for the eight best techniques to drive traffic, both organic and paid, to your website.
1. Pay Attention to SEO
A strong online presence is crucial in driving more traffic to your website. Take note of the aspects below to enhance your Search Engine Optimization (SEO):
Niche-related keywords – include keywords in the title, tagline, meta description, and content body. They will help search engines identify the focus of your website and connect it to related topics.
Content quality – resourceful and easy-to-read content increases user engagement. Visitors will want to stay longer or come back to your site to read more content, which can lead to a higher ranking on search engines.
Regular update – websites with updated content have better visibility on the SERP. Readers also tend to look for recent articles and information.
To help you with keyword research, one of the tools that you can use is Keywords Everywhere. This extension shows you the search volume of certain keywords and their amount of cost-per-click on search engines. So, you can determine which keywords to put in your content to help you get more audience.
2. Utilize Social Media
Traffic does not come automatically. You need to be proactive and try your best to lure people to visit your website and build brand awareness. One way to do that is to make use of social media marketing.
But depending on the social media platform you use, you will need different approaches. For example, Twitter is for a short yet catchy call to actions as a tweet only allows 280 words, while Instagram is ideal for visual-focused content marketing. Also, ensure that your promotion on each platform is well-targeted.
Don't forget to put your website link on your social media profile, or vice versa, so your visitors can easily access them from both platforms.
3. Actively Advertise
There are various types of advertising strategies to promote your website, like search engines and social advertising, to name a few.
For search engine advertising, you can try Google Adwords. The service uses the auction method, which requires you to bid a certain amount of money for words or phrases that are relevant to your business or niche. If you win the auction, your website will appear on top of Google's SERP, as seen below.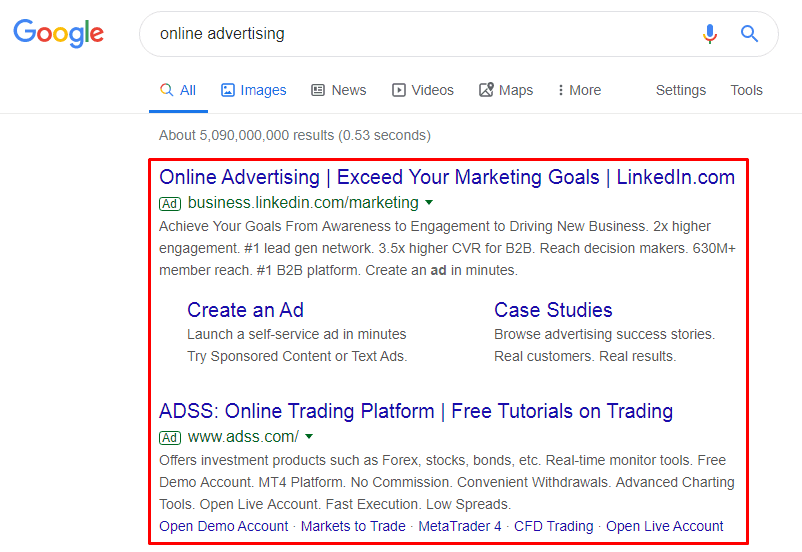 Every click on your website link will cost you the amount based on Google's formula for cost-per-click (CPC).
The Facebook Ads program is one option for social advertising. You can broadcast your website on Facebook to particular audiences based on their age, gender, languages, interests, and even behaviors. What's more, it's possible to schedule the display of your ad. Whether it's once or multiple times a day, and specify it to people who will most likely click on it.
4. Internal Links
Make use of internal links to connect posts and pages on your website and increase user engagement. Search engines take this as a sign that your website is helpful for the readers. Thus, your website will more likely rank high on SERP.
However, make sure that your internal links are relevant to its resource post. It affects your content rank because it helps search engines identify the relevance between the two related posts. For example, in a "Types of Marketing" article, include an internal link that directs to the page or post about marketing services.
5. Adding a Blog
People use the internet to search for information. Traffic will increase if you provide for that need, and you can do so by adding a blog to your website.
However, keep in mind to never let it go inactive for months. A blog with regular new content will not only keep existing readers come back to your website, but also attract new visitors.
You can start with evergreen content, like glossaries, beginner's guide, or FAQ, which doesn't change over time. Or, republish outdated content with more up-to-date data, steps, and images. This technique will keep your blog relevant, and it's good for visibility.
Optimize your blog by linking it to other content on your website with internal links. Or, include your blog in a custom menu on your homepage, along with the archive and contacts. It will help increase user engagement.
Additionally, once you establish your blog, you can localize it and generate even more traffic with your content marketing efforts. In this way, your blog will become international, and you'll start getting organic traffic from non-English speaking locales. However, you'll definitely need help from local marketing agencies like "Marketing Agency Mavr," which works with Russian speaking locales.
6. Guest Posting
Another alternative to attract traffic to your website is through guest posts. This technique can go two-ways — ask others to write for your website, or you write for other websites.
Receiving guest posts can increase productivity, which leads to more regular updates and higher ranking on search engines. Not to mention, having experts or credible sources to write for you enhances the quality of your content.
Writing for others benefits differently. You can promote your website right on your clients' established sites using backlinks, which can improve your website's credibility and trust.
7. Send out Newsletters
Emailing newsletters is a great alternative to get traffic. You can lure the readers to visit particular posts, media content, or even products. It also connects you with the readers on a more personal level.
Pay attention to several details before utilizing it.
First, write an enticing subject line that can persuade your readers to open the email. If they don't read your email, chances are they won't visit your website either. Make it eye-catching, captivating, or even funny — choose what matches with a brand. For inspiration, check this article.
Next, insert high-quality images and infographics to draw your reader's attention. Optimize them, link them to specific articles or landing pages on your website.
Last but not least, keep it concise and include a little bit of personal touch. Use your reader's name or other personal salutations, like "I" and "you." Show them that the email is from a real person. Then, close it with your picture or signature attached at the bottom of the newsletter.
8. Outreach Marketing
The term means that you collaborate with influencers or organizations in your industry. They will promote your content to their audience and help you build brand awareness, which can lead to more traffic to your website. You can do so by giving sponsorships to webinars or Youtube channels related to your niche.
Before reaching out to them, you have to make sure their audiences' interest aligns with your niche. If so, they'll be more likely to check your website.
Alternatively, find potential visitors in forums dedicated to your industry, like the ones in Reddit or Slack. Share your content, but avoid spamming. You want to attract readers, not cause a disturbance.
Wrapping Up
Driving traffic to your website is not as hard as you might think it is. There are many ways to do it — from external approaches like guest posting and outreach marketing to more internal ways like adding a blog or inserting internal links. What they have in common is that these techniques require consistency, quality, and creativity.
Good luck on your online journey!