More and more businesses are joining the digital marketing competition. And those companies will do whatever it takes to drive traffic to their landing pages, including conducting PPC affiliate marketing.
If you're a blogger seeking to convert traffic to money and want to check out programs that are great alternatives to Google AdSense you're in the right place. Pay per click affiliate programs can be your new best friend.
By joining the pay per click advertising industry through an ad network platform, you'll get more earnings without having to do a ton of work. As the ad networks will get everything done for you.
However, choosing the best platform for your pay per click program can be overwhelming. Don't worry. In this article, we'll show you the 12 best pay per click affiliate programs in 2020. Let's dive right in!
How to Get the Most From PPC Advertising
Before we get to the quick pay per click advertising how-to, let's look at what PPC and affiliate programs actually are.
Pay Per Click (PPC) is a digital advertising model. Further, you'll also find other models, such as Pay Per Sale (PPS), Lead (PPL), Performance (PPM), and Action (PPA), on the ad networks we cover in this article.
On the other side, affiliate programs refer to an advertising arrangement that connects advertisers and affiliate marketers.
When you sign up for a PPC affiliate program, you will get paid for the clicks your visitors made on the advertiser's affiliate links.
To get an effective PPC income generation, here are some things to note:
A reliable site. Make sure your website delivers high-quality, up-to-date content. Being active in the comment section and including social media information on your blog can also improve reliability. Also, ensure your site can display ads consistently without delays and glitches. You can use several tools or WordPress ads management plugins to ensure you can deploy and manage ads seamlessly.
Audience. Some ad networks set traffic requirements for websites that want to register for an affiliate program. The more traffic your site obtains, the more likely it gets approved as an affiliate.
Website niche. Whether it's fashion, travel, or technology, getting your site into a popular niche can make it easier for you to make more money. Or, you can find an unpopular one that has high traffic.
The 12 Most Profitable PPC Affiliate Programs
With so many options available, doing research can indeed be exhausting. Lucky you, we've sorted the 12 most profitable pay-per-click affiliate programs. Without further ado, here's the list of the best PPC affiliate programs.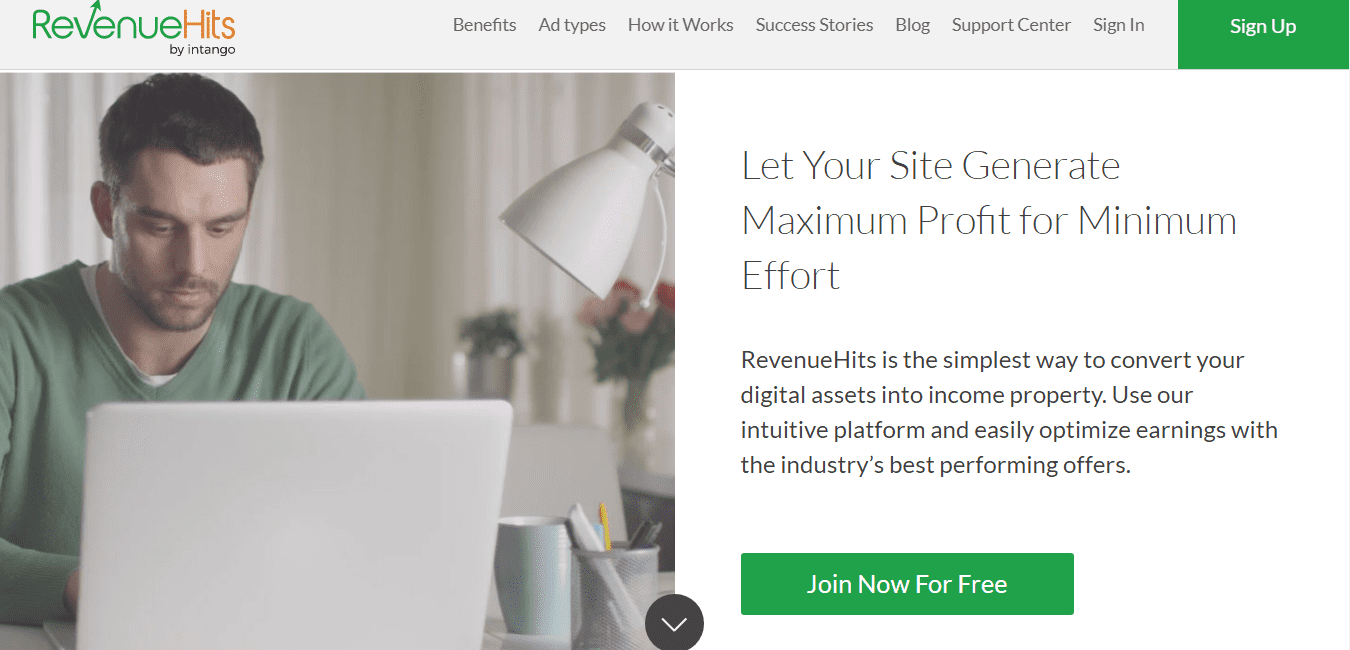 Founded in 2008, RevenueHits is an Israeli-based, self-serve ad network platform. It comprises pay per click affiliate programs focusing on Contextual and Geo-targeted ad service. And since its establishment, it has helped twenty thousand publishers worldwide increase their revenue.
RevenueHits is easy to join and use. Once registered, you get a personal account manager who will guide you throughout the process. Keeping track of your stats is also made more accessible, as RevenueHits gives you 24/7 access to monitor them.
The company guarantees a 100% fill rate, allowing you to reach higher revenue. RevenueHits offers the pay per action model, which compares clicks with earnings in terms of commissions. This method may benefit publishers, as it can minimize click fraud.
RevenueHits grants a $1.50 cost per mille rate from tier-one countries. Should your traffic come from the other parts of the world, you can expect up to $0.50.
Get paid by reaching a $20 revenue with PayPal and Payoneer, and $500 with a bank transfer. The payout time is on a net 30. RevenueHits will schedule an automated payout every time you reach the payment threshold.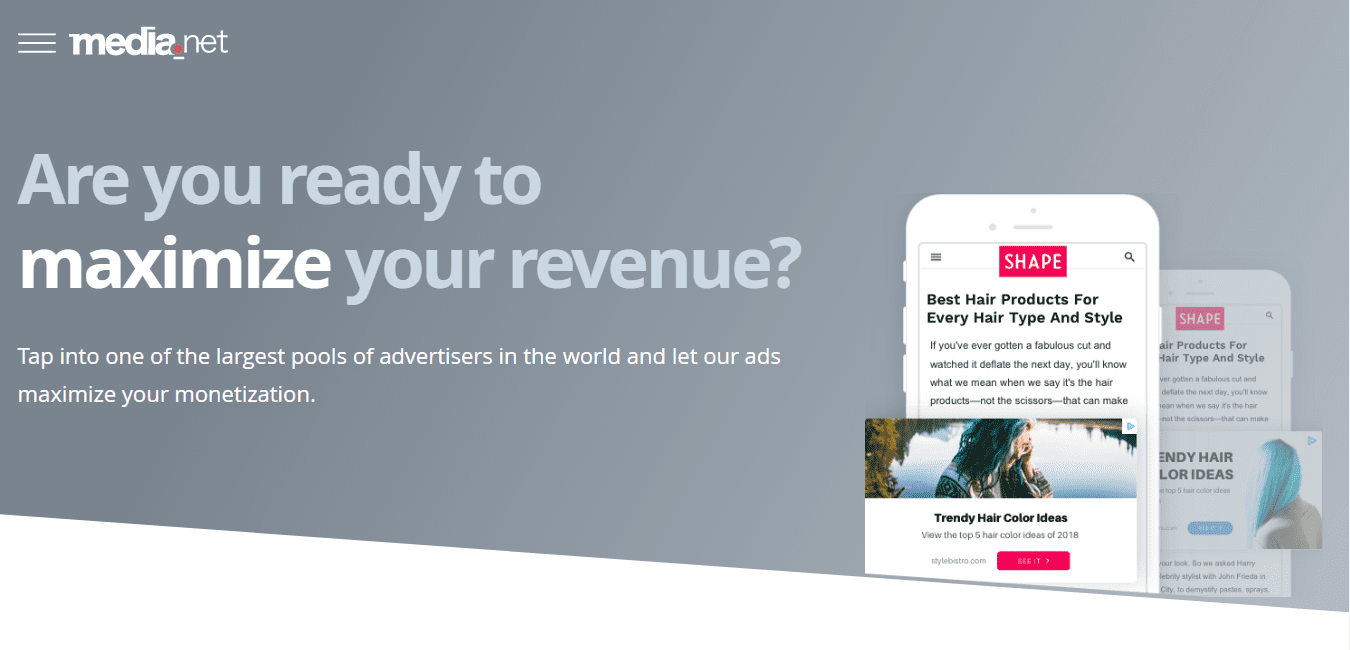 If you are a blogger writing content on finance, lifestyle, and parenting, Media.net will be glad to welcome you.
Media.net is one of the leading global advertising companies under Miteno Communication. Its extensive ad networks come from Bing and Yahoo!, making it the second-largest advertising platform. Also, people have seen it as a Google Adsense alternative for its high RPM.
On the publisher's dashboard, you can watch the stat reports and graphs. And should you need to make a complaint, Media.net has the best support team for you to reach out to. Or, you can share your concerns with your personal account manager.
Customization is also possible with Media.net. This feature allows you to display ads using the same layout and design as your blog. As the click-through rate (CTR) gets higher, your revenue will follow.
With Media.net, you can make money with pay per action, mille, click, and lead models. The platform employs all models' numbers to calculate your eCPM. By joining Media.net, affiliates can expect from $1 to $5 eCPM rate.
The payout time is on net-30 days. You can claim your earnings through wire transfer and Payoneer once your revenue hits $100.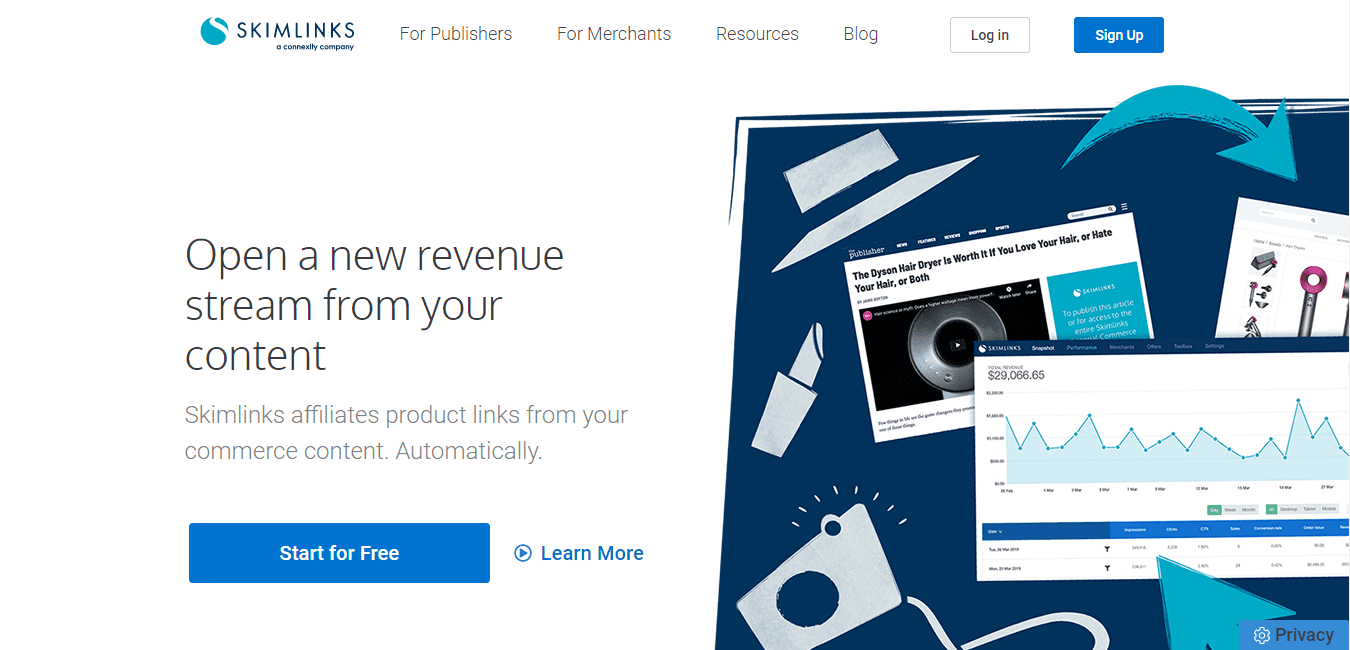 Skimlinks has been around since 2007. The company provides pay per click affiliate programs not only for bloggers but also for media publishers. Its vast network connects approximately 60k publishers and 48.5k advertisers. Thus, expecting a thousand dollar bill a month is within reach.
Once registered, Skimlinks grants you a 25/75 revenue share. Meaning that Skimlinks claims 25% of your revenue and pays you out with the rest 75%. Also, you get an all-in-one analytic tool containing performance stats on your website's eCPM and the merchants' sales.
Skimlinks' eCPM rate varies from merchant to merchant. However, if you can target the Airbnb and Amazon affiliate links, making money with Skimlinks' pay per click affiliate programs is a piece of cake. Besides, Skimlinks offers you a 35% commission from its referral program.
You need to get at least $65 of revenue to request a payout. However, the payout time varies, depending on when the merchants pay Skimlinks. This process apparently can take up to 92 days after the transaction day.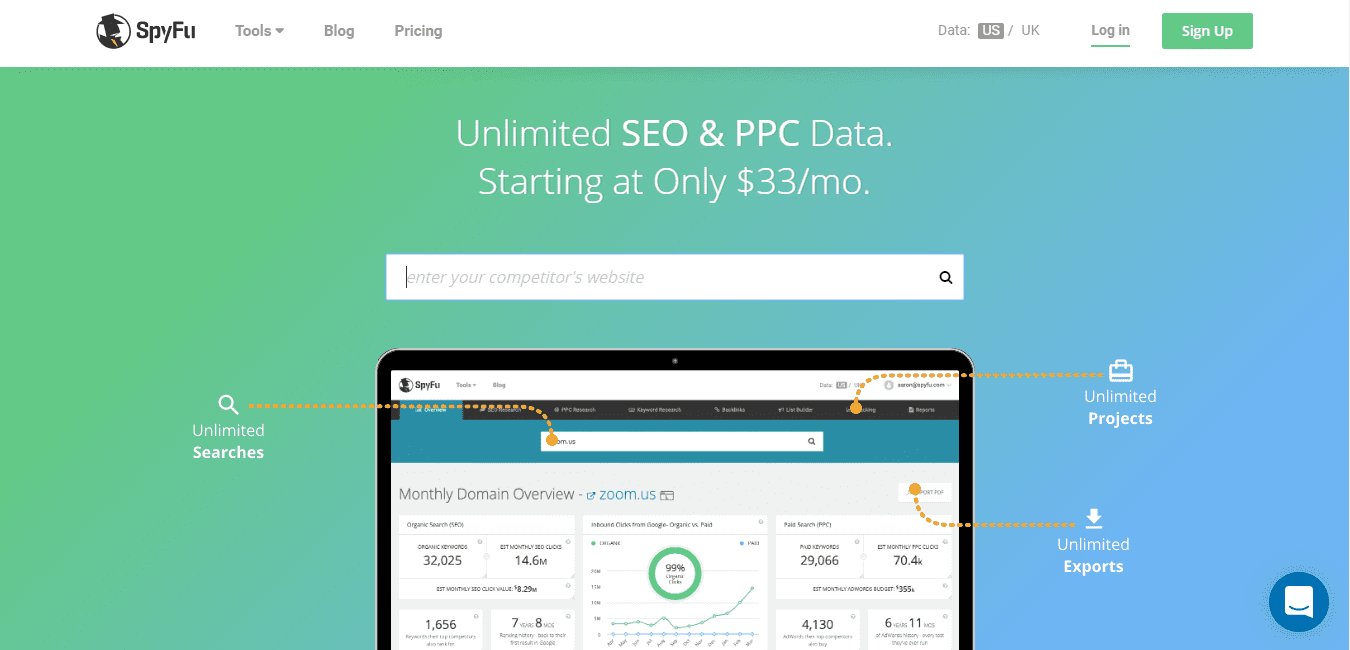 SpyFu was GoogSpy when it was first established in 2015. This platform provides numerous services, including keyword research for SEO and pay per click affiliate programs. Although SpyFu isn't 100% free, its programs actually offer a lot to benefit from.
The platform arms your website with a 365-day cookies tracking tool, helping you display related ads for your visitors. Additionally, SpyFu's competitor keyword research tools will get your site's revenue ahead of your competitors.
SpyFu's support team is only one-text-away if you ever need some help with the features. You can reach them over live chat and emails.
2.5% of visitors' clicks to the affiliate link will translate to your recurring revenue in terms of income. Therefore, the more traffic your website gets, the more likely SpyFu will convert.
Affiliates will also get full 40% recurring commissions upfront for annual subscriptions. Also, SpyFu's churn rate is below 4%, which is relatively low. Thus, you can take your recurring commissions for granted.
With SpyFu, you will get paid once your revenue reaches $100. The platform supports PayPal, ACH, and wire transfer as payment methods. Adding the positives, you can expect timely, bi-monthly payouts from SpyFu.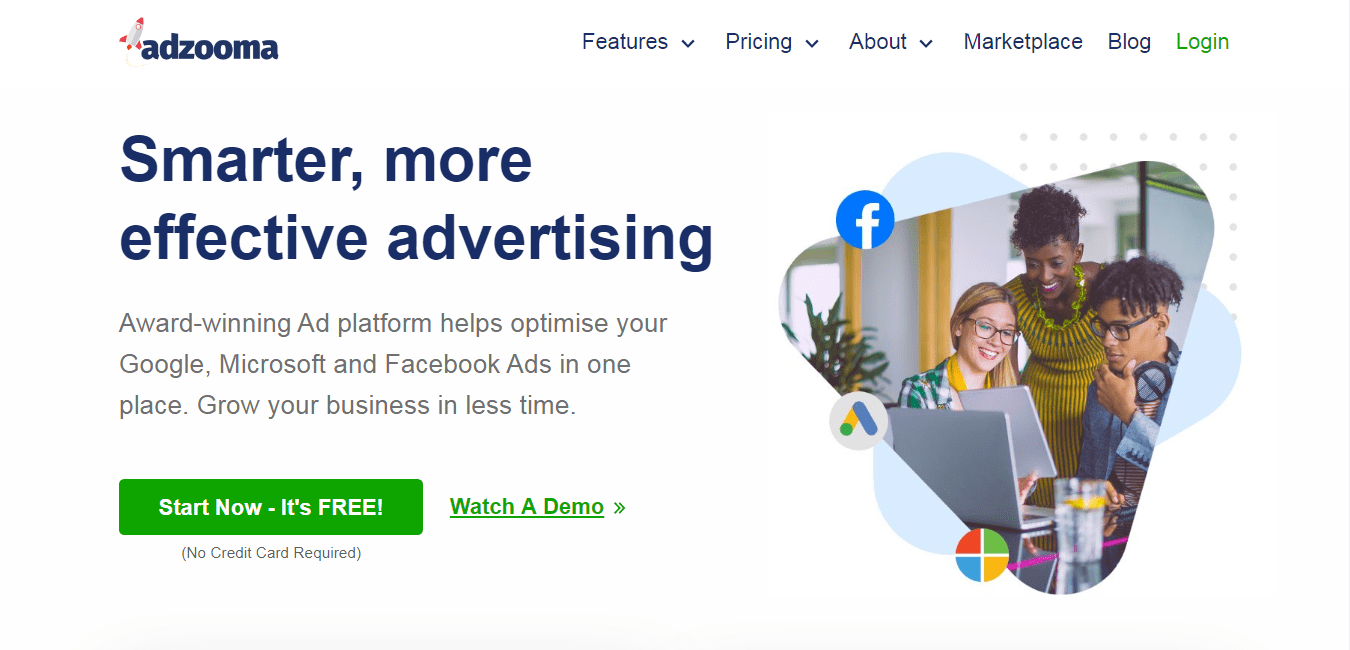 Small business owners may want to make more money with Adzooma. As it's 100% free and offers generous commissions for its affiliates.
Adzooma is an award-winning ad serving platform. Founded in 2013, Adzooma has grown to help close 106 million conversions.
The company focuses on building a time-saving platform by maximizing automated tools. This feature makes it effortlessly undemanding to manage your campaign, so you can concentrate on optimizing your content.
Don't worry about ad relevance. Adzooma ensures the ads displayed on your website best fit your blog's niche with its AI-driven suggestions.
In terms of commissions, you can claim $30 per referral sign-up and a 10% recurring commission from getting companies to visit Adzooma's marketplace. On top of that, as a bonus, you can earn a $20 Amazon gift card every time someone takes your Adzooma's suggestion.
With Adzooma, you can start earning your commissions right away, as it doesn't set any payment threshold. All payments are made bi-monthly through PayPal and bank transfer.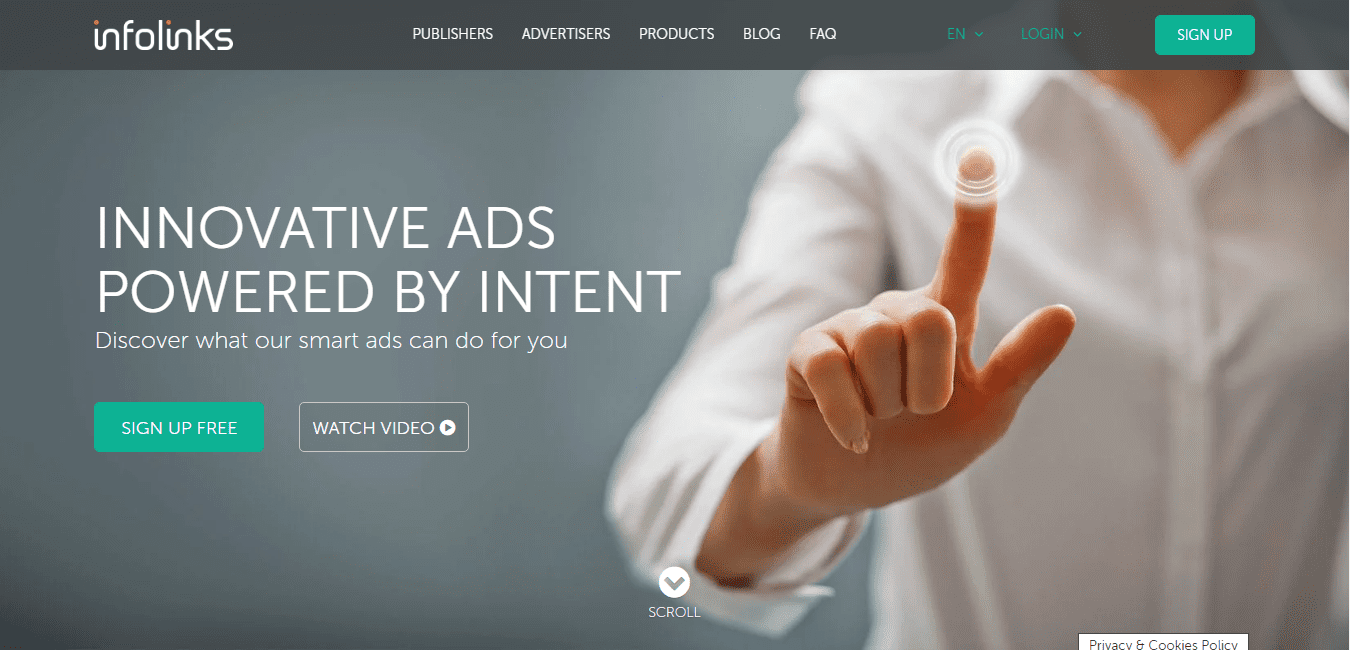 Infolinks started its operation in 2007 and has become one of the world's largest ad network platforms. Due to its exceptional performance, notable companies such as Target and Netflix give Infolinks the control to generate nearly 1.5 B monthly ad impressions.
Join the 100k publishers worldwide in Infolinks' pay per click affiliate program. As it has no traffic requirements, it's easier for small businesses to make money with this platform.
With Infolinks' uniques ad units, you can monetize all unused space on your website. And as Infolinks uses a Cost Per Click (CPC) commission type, viewability is essential to have your unique visitors click the ads. In this matter, Infolinks' guarantees 90% of ad viewability.
If your website collects traffic from tier-one countries, being an Infolinks' affiliate marketer allows you to earn money faster. With such traffic, the average Infolinks eCPM rate falls between $1 and $5.
Infolinks supports various payment gateways, including PayPal, eCheck, ACH, Payoneer, and wire transfer. The payment threshold is $50 on all supported virtual payment platforms, but wire. For bank transfer, you need to reach $100 of revenue to get your money transferred.
The payout time is on a 45-net basis. And by registering to Infolinks, you grant the 35/65 revenue share policy.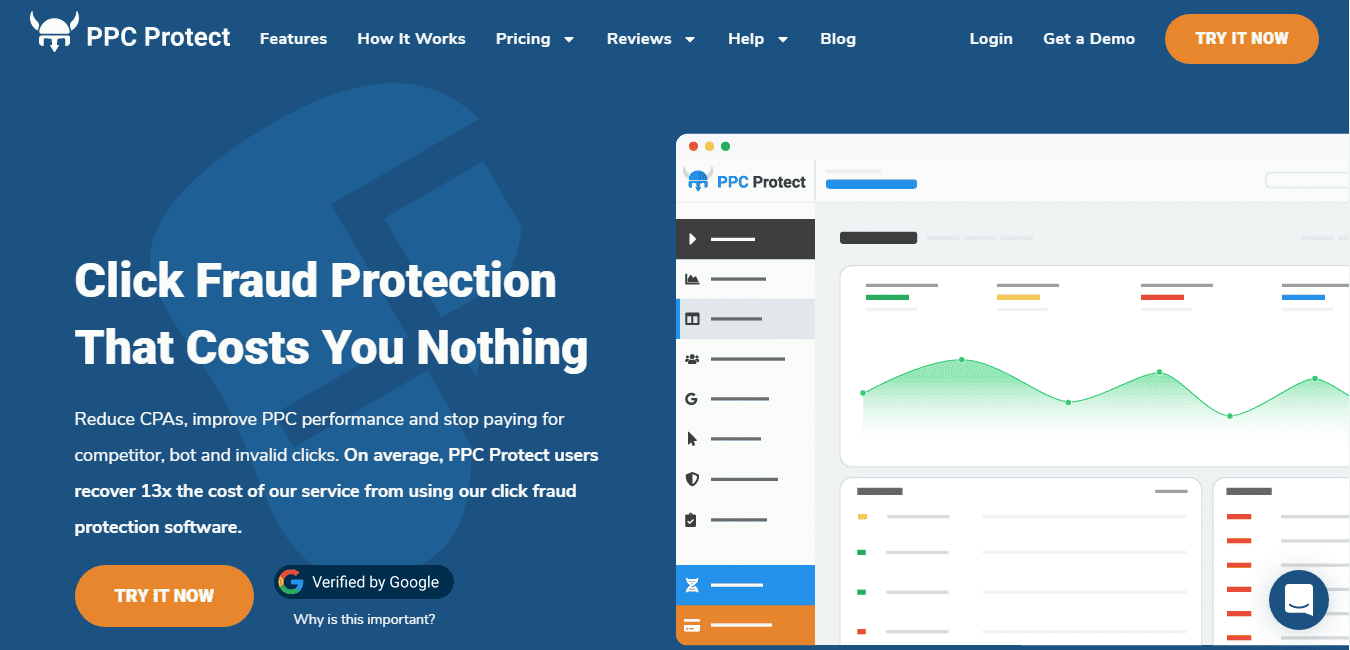 Starting in 2016 as a click fraud protection tool, PPC Protect introduced its PPC affiliate program in 2020.
Get started with PPC Protect with its base plan, costing $70/month. However, you can always sign up for the free trial to see if PPC Protect provides the perfect pay per click affiliate program for your site. For more money, you can use Google Adsense together with this platform.
PPC Protect has proven to decrease bot clicks by 97%, increase high-quality traffic by 27%, and decrease competitors' clicks by 92%. All these nifty stats contribute to higher revenue.
And you needn't worry about losing commissions, as PPC Protect's affiliate program comprises 90-day cookie tracking. Its robust click fraud detection will also save you a lot of bang for your buck.
Speaking of money, PPC Protect offers a bountiful commission. Affiliates can claim 25% recurring revenue per month on all plans for the first year.
With PPC Protect, you'll get paid at the end of every month with no payment threshold. In terms of payment methods, PPC Protect supports PayPal and bank transfer.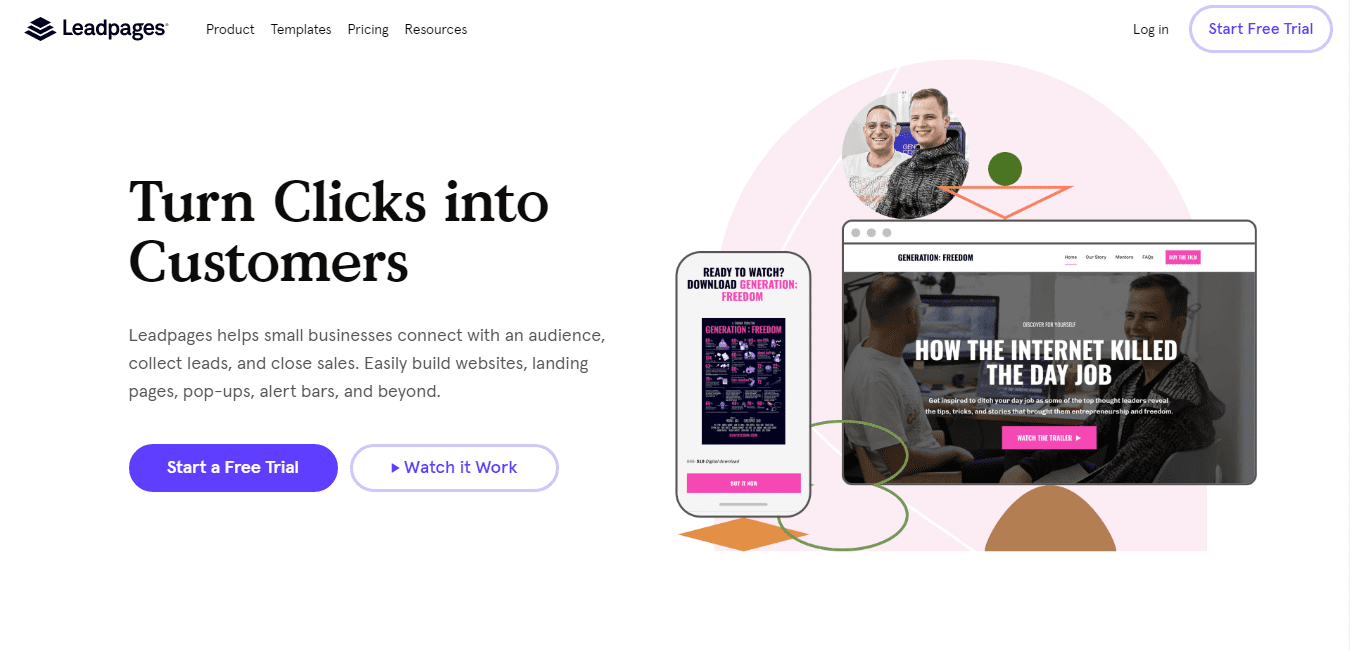 Leadpages is a landing page builder founded in 2012. Today, you can join the 46,000 people and be an affiliate. Leadpages' affiliate marketing programs need publishers to sell their products. Therefore, the cost per sale (CPS) is the way with Leadpages.
Although it's not free, you can sign up for the 14-day free trial to study how the affiliate program works. Once you're in, you'll get more than 40 marketing tools, the Impact conversion analytic tool, and a cookie tracking tool.
Should you continue with Leadages after the trial has ended, you'll get the base 10% of the recurring commission and a generous 30% of the monthly recurring commission. You can also increase your commissions up to 50%, so long as your referrals remain Landpages' customers.
One of Leadpages' drawbacks is that you cannot display Leadpages' URLs on your blog post. Therefore, turning that URL into anchor texts is the best advice for this circumstance.
Leadpages' payment threshold stands on $50 commissions per month. And the payout is made on a net 45 basis through PayPal.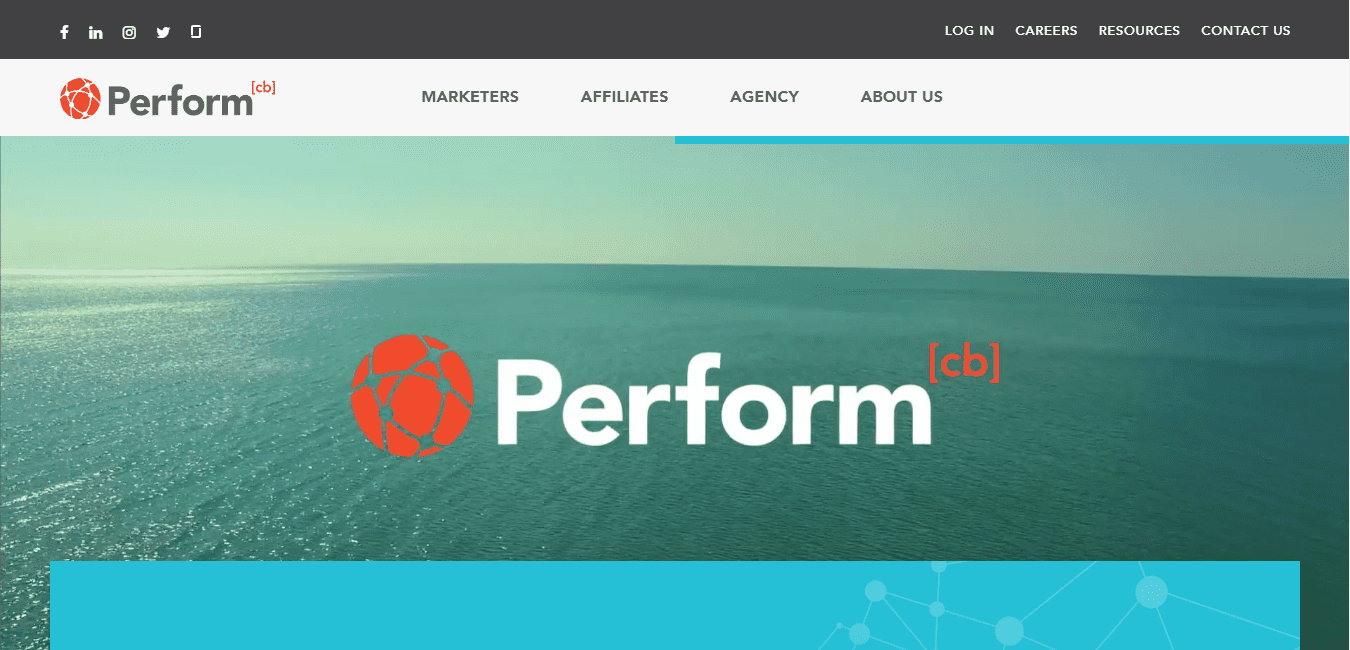 Perform[cb] kickstarted its operation in 2002 under the name Clickbooth. This ad network platform offers varying pay per click affiliate programs with a click per action, impression, lead, performance, and sale commission type – an all in one package.
Feature is Perform[cb]'s middle name. From real-time stat reports to automated campaign management, all of its features will increase your conversion rates by 36%.
The company also grants its affiliates a tool called PerformLEAP, which allows them to customize the dashboard and configure the optimization software.
Other features include performance record tools, data trend recognition tools, social media optimization tools, and research tools.
Perform[cb] won't be the number one CPA network for no reason. Unlike other ad network platforms, Perform[cb] allows you to display ads of your choice on your blog. With more than 500 advertisers to choose from, you don't need to worry about not getting the perfect ads.
The payment threshold is $50. Affiliates can expect payouts on a net 15, even weekly basis through PayPal, ACH, check, and direct bank transfer.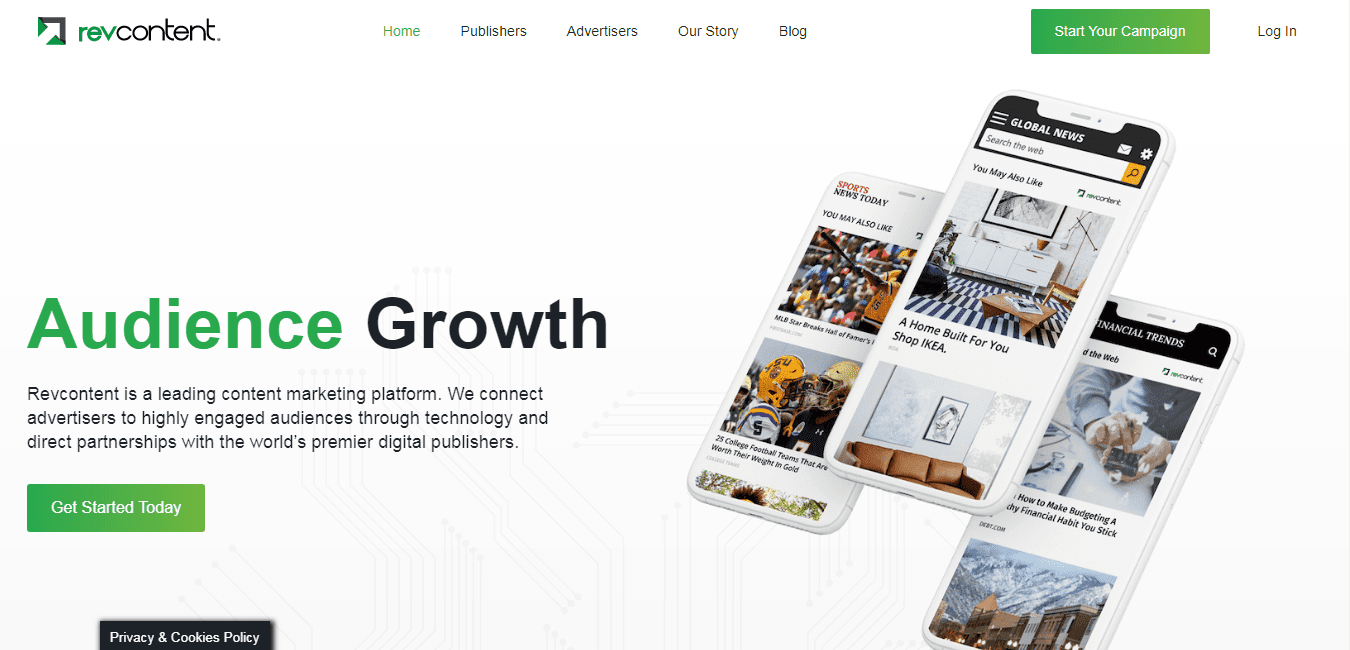 Established in 2013, Revcontent offers one of the best PPC affiliate programs you can effortlessly earn money from. The company comprises pay per mille and click commission types and is well-known for its unique AI tools.
Its widgets can give you 20% higher rates. As they're customizable, you can display all ads in the same layout as your blog. When someone clicks those in-disguise ads, commissions follow.
Revcontent guarantees 20% eCPM revenue uplifts. One of its notable records is from McClatchy, whose revenue surges by 80%. Widget-aside, all uplifts can occur with Revcontent's accurate real-time stat and knowledge-based support team.
Also, Revcontent doesn't rely on third-party cookies. Its unique AI-algorithm integrates first-party cookies to drive performance. With this technology, your revenue will be consistent. No drops, no fluctuations. Just stable.
Revcontent's average eCPM is $0.44. Quite low compared to other platforms. However, the average cost can go up to $3 depending on the number of clicks your visitors make. Therefore, the higher your traffic, the more revenue you'll get.
Revcontent sets its payment threshold at just $50 revenue. The payout time is every month through PayPal and wire bank transfer.
Adcash is an award-winning, self-service ad network platform that provides affiliate programs that pay per click. It supports pay per click, mille, action, lead, and visit commission types. Established in 207, Adcash has now become one of the best ad networks we have.
As of today, Adcash is open to all people in 198 countries. And all of its affiliates demand a total of 10 Billion ad requests per day.
With the global-level affiliates, Adcash is being considerate by putting 8 languages on its admin panel. Its customer service is also fast and reliable. As an affiliate, you can reach them through email, Yahoo Messenger, and Skype.
The affiliate program also comes with anti-AdBlock technology and real-time statistics. Allowing you to make money hassle-free.
With Adcash, you get an 80% revenue share, which is quite a high share. The estimated rate for the tier one countries is around $2 and $4 per mille. You can withdraw a payout once you've reached the revenue threshold of $25.
Payout will be made on a net 30 basis. Adcash also offers various payment methods, including PayPal, Payoneer, Webmoney, Skrill, Bitcoin, and wire. However, if you request a bank transfer, the payment threshold is $1000.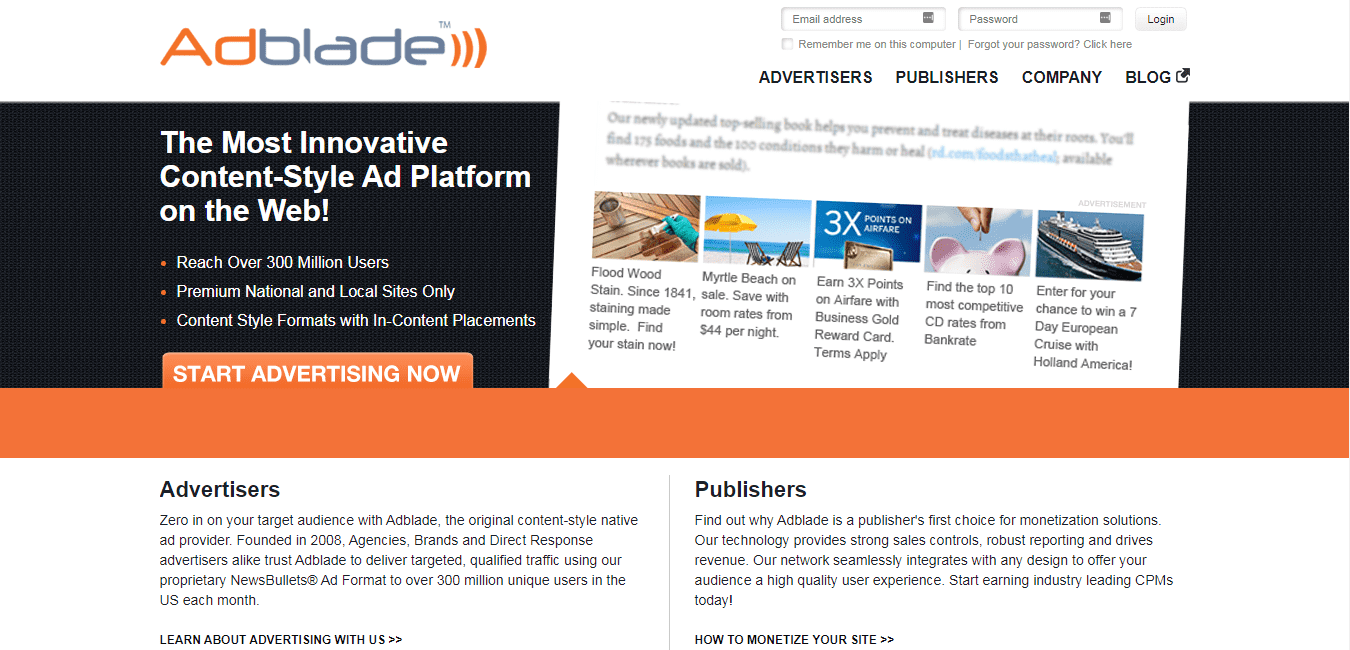 The Adblade advertising and publishing platform commenced its operation back in 2008. Its product focuses on content-style and native-style ads, with cost per click and mille commission models. If your website has reached at least 50k visitors each month, you can register for Adblade.
Adblade's key features include the NewsBullets proprietary tool. This tool allegedly helps triple your revenue.
Another feature is a real-time stat, which you can find on your dashboard. The report consists of your cost per click and action rates, click-through rate, and the number of impressions the ads get.
Adblade offers an average of $2 eCPM from tier-one countries. The payment threshold is $100. Once you've reached the minimum revenue, you can request a payout via check or direct deposit on a net-30 basis.
Wrapping Up
There are ways to make money online. One of which is through PPC affiliate programs. And as eCommerce is growing at full tilt, the affiliate marketing industry shows promising prospects.
While it takes time to earn a stable passive income, you can improve your revenue by increasing your traffic. To increase your traffic, you need to consider your blog's niche. The more popular it is, the more advertisers you can work with.
You've read our 12 best pay per click affiliate programs. No matter which one you choose, make sure you purchase the best PPC affiliate program for your site. We wish you good luck on your affiliate marketing journey!