Without spending more on paid ads, you can still reach your marketing goal and boost high-quality web traffic with organic marketing. This article will cover the definition of organic marketing, its difference compared to the paid strategies, how you can use organic marketing effectively, and the benefits of this marketing approach. Here you can check the best marketing checklists for your workflow.
What Is Organic Marketing?
Organic marketing, also known as inbound marketing, is a marketing strategy that generates traffic and converts customers without using paid advertising. It aims to raise brand awareness, develop genuine interactions, and educate consumers, which refers to the function of the top of the sales funnel. It doesn't mean that you don't spend money at all, as you need related services like MailChimp for building email lists. Organic marketing means you don't pay to boost a particular post alone.
Organic Marketing vs. Paid Marketing: What's the Difference?
The most significant difference between paid and organic marketing is how long it takes to get the benefits and how much you spend.
Paid Marketing
Paid marketing is a marketing approach that involves paid spots on search engines or social media. It helps you get traffic more quickly than organic marketing to meet your marketing goals. With this strategy, you can choose which post you want to boost. It's easy to recognize which sites use paid marketing. Search engines or social media put an Ad or Sponsored label on paid posts.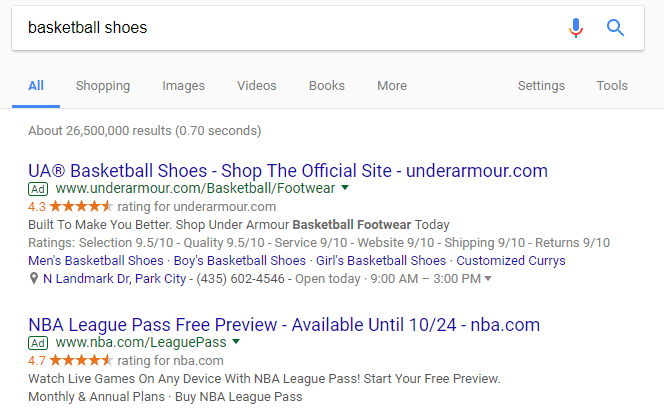 However, customers may ignore paid marketing campaigns because they feel forced to see the post. Paid advertising also may cost you a lot. The average cost of Google's pay per click is $1 to $2 depending on the keyword and locale you're targeting, and Instagram ads cost around $0.20 to $6.70, depending on how large your targeted audience is.
Organic Marketing
Organic marketing takes time to bring you profit, but it works long-term. As your audience gets exposed to valuable content and interesting programs you offer, they will understand that you're a good brand to trust. In this case, you will gain an emotional connection and genuine engagement with your customers.
Which One Is better?
Moz reports more than 70 percent of Google users click only on organic results. It means non-paid sites with organic marketing efforts can exceed the ones that use paid advertising. To understand whether paid marketing works for you, try it once after researching and planning it, then analyze the results. Check if you achieve your target by looking at the conversion rates and ad engagement. Combining those strategies can bring you excellent outcomes. Educate customers and develop authority with an organic approach. Then, if you have products, promotions, or programs you want to blast, go with paid marketing to bring more people quickly.
Tips To Build an Effective Organic Marketing Strategy
Organic marketing requires more time to significantly benefit your business, but you can speed up the process and make the most of it by applying seven well-rounded strategies.
1. Invest in Content Marketing
This strategy focuses on creating valuable and relevant content, as it aims to educate your audience. Here are several types of content to use.
Blog posts
E-books
White papers
Case studies
Podcasts
Videos
Create multiple types of content. The mix helps you target larger audiences because people have different preferences when consuming content. Also, prioritize to produce evergreen content. This type refers to content that is continuously relevant over a long period, so it won't quickly lose relevance. For example, if you have a clothing line, produce content talking about denim care instead of discussing the latest fashion trend. The challenge with creating evergreen content is that many sites may have covered the topics. To tackle this issue, add a unique perspective to an already existing topic, or go more in-depth. You can also use long-tail keywords consisting of more than four words. They'll typically have less traffic, but will also be easier to rank for. A good way to let people know about your content is through enticing newsletters.
2. Optimize your website
Search engines provide the best answer for Internet users by indexing and crawling all available sites, then matching it with the query. They will set ranking to the most relevant sites. If you practice search engine optimization (SEO), it will help search engines discover and index, and rank your pages on results for relevant keywords. There are several essential elements of SEO.
Keywords. This element helps a search engine to identify the topic that your content discusses. Use keyword tools like Google Trends to research keyword phrases your audience is looking for.
Content. Google says in its webmaster guidelines that creators need to make content for their users, not for search engines. Don't repeat the same keywords (keyword stuffing). Google dislikes that tactic since it indicates the low quality of content. Make useful and relevant content, and your effort will definitely pay off.
Meta tags. It refers to the snippets of text that appear on the search engine's pages.
Site hierarchy. This element makes your site easy to navigate for users and search engines. Structure your website by arranging categories and tags, plus develop internal linking.
3. Feature as a Guest on Other Relevant Blogs or Websites
Besides those five important components of SEO above, links are also crucial for optimizing your site. Contribute content to other reputable sites (guest posts). It can improve your traffic as the readers, who believe those sites are reliable, will see your site as a trustworthy source too. Start with making a list of websites that interest your audience. Gather content ideas that fit other websites' readers. Then, create a guest post pitch by following these steps.
Find the contact person on the website.
Check the guest posting requirements.
Write an interesting subject line and a summary or bullet points for the topic you propose.
Highlight the benefits of publishing your post to their site. You can add your social metrics and links to guest posts you have written.
4. Use Social Media Marketing
Social media is an effective way to drive traffic to your website. Just put a link that leads to your website on your social media posts. Consider several points below to maximize the use of social media marketing.
Platform choice. Think about which social platform your audience mostly uses. LinkedIn is an excellent choice for B2B companies, but Statista shows Facebook and Pinterest generate high referral traffic by more than 18%.
Post type. Design posts that attract your audience. It can be infographics, photos, or videos. Include a call to action (CTA) to visit your website.
Schedule. Check your social media analytics when your audience is most active. Also, research about the optimal frequency you need to upload on social media.
Links. Make sure the link leads the correct content on your website.
5. Reach Your Audience Personally With Email Marketing
Email helps you connect with your audience in a personalized way, as you can talk with them directly to their inbox. This organic marketing method is also affordable. For example, MailChimp provides a free plan for up to 2000 subscribers with 12,000 emails per month. To make your email marketing interesting, create a newsletter series with a free subscription that links to your website. Tell the potential subscribers what they can expect from your emails. Make them scannable and mobile-friendly, as more than 80% of users open emails through their mobiles. Personalize the emails with their name and friendly tone. You can also ask them a question. Paperstyle, a company designing custom gifts and invitations, asked their customers on email about what they are planning, and they increased their open rate up to 244 percent.
6. Integrate Referral and Loyalty Programs
Companies often focus more on acquiring new customers than retaining existing ones. Meanwhile, customer retention is five times as less expensive as acquiring new ones. It can be easier to sell to them since they already know your product or service. With loyalty programs, your customers will be more valued for staying loyal to your brand. It encourages them to continuously purchase as they will get benefits like points, VIP member clubs, or gifts. Also, referrals help you bring the existing customers' friends to your business. Word of mouth is a powerful marketing strategy as over 90 percent of consumers believe their friends' or family's recommendations more than advertising. When you apply this method, keep the conditions simple to appear effortless for your customers and make them aware of the programs through emails or social media posts.
7. Track Your Audience
After using these strategies, check the analytics to see which method performs the best. It makes sure your decision on organic marketing is objective and scalable. Here are some points to measure.
Traffic. Refers to which pages or posts driving the most traffic to your website.
Leads. Mean visitors who give you their contact information through a web form.
Sales. Is a successful conversion on your website or social media.
Formats. Tell which marketing channels like social media, public relations (PR), or emails bring the highest traffic to your website.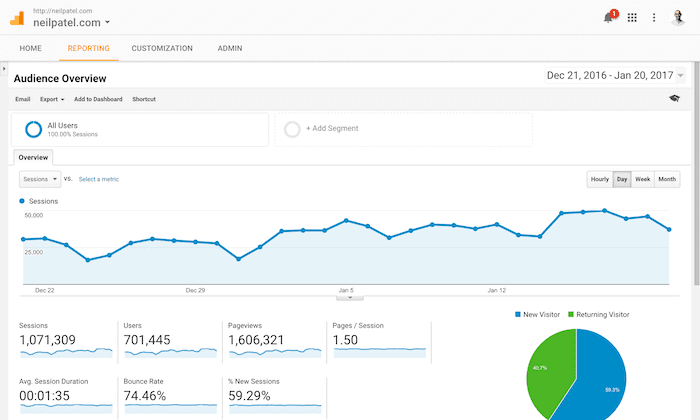 One of the most famous analytics tools is Google Analytics. It shows you the visitors' location, best marketing channel, the device they use, and what people are looking for on your site. See the top and worst-performing content to help you create more content that your audience likes.
What Are the Benefits of Organic Marketing?
Implementing organic marketing strategies can bring you many benefits, from saving your budget to building a loyal following. There are four main benefits you get by applying it.
Cost-efficient. You can adjust the estimated clicks based on your paid ads, but small to midsize businesses spend around $9000. Save that amount of money by using organic marketing strategies.
Web traffic. SEO optimization helps you boost traffic significantly. It doesn't happen overnight, but the traffic will be long-term as you climb the search engine's ranking.
Brand authority and genuine audience. As you try to create valuable content marketing, readers will find your information useful and trust your site as the industry expert.
What Are the Components of a Great Organic Marketing Strategy?
Based on the seven organic marketing tips above, I conclude with three major components of a successful organic marketing strategy.
Content marketing and optimization. Refers to creating various content optimized for search engines.
Natural link building. Contains internal links for your site's hierarchy and links from other sites from guest posts.
Authentic engagement. This means you create content and loyalty programs that are relevant and benefit your customers.
Conclusion
I hope this guide gives you a better understanding of organic marketing. Not all marketing efforts that give significant results are expensive. Use these tips to gain organic traffic without worrying about your budget. The key to being successful in this strategy is to be consistent!