As one aspect of search engine optimization (SEO), keyword research is about finding relevant phrases that people use when searching for information online. Many use keyword research tools to help do this work; one of them is Keywords Everywhere.
Keywords Everywhere is a browser extension for Google Chrome and Firefox that helps improve SEO on the keyword-level. Compatible with many platforms, they also help with cost-per-click (CPC) monitoring, understanding search volume, and website traffic monitoring.
Seeing the number of great user reviews, it's easy to choose Keywords Everywhere as your tool for keyword research, mainly because of their free services until October of last year. For their continuation, Keywords Everywhere had to start charging for using their tool.
This might be the reason why you're looking at some free alternative, or maybe because you're just simply looking at newer options for your SEO work. Fortunately, there are great Keywords Everywhere alternatives that you can consider.
For that reason, this article will recommend four keyword tools and explain why they are among the top options according to SEO experts.
Why These Alternatives Are Important
The four Keywords Everywhere alternatives I'm recommending in this article are SurferSEO, Google Keyword Planner, LiveKeyword, and Ubersuggest. You might ask why these four alternatives among so many other options? To answer that, I will breakdown the reasons why they're important:
The tools and features. Aside from the keyword research, they can also help your SEO plan with features like detailed metrics for conversion, keyword data, user behavior analysis, and even ideas for content.
Google Chrome Extensions. The tools I'm recommending all have browser extensions, which can increase your productivity and optimize time spent on your SEO activities.
Reputation. Finding the right alternative is less challenging when you've understood who they are. That's why I only include the ones with a proven reputation and a reliable user community. Respectively, you can also check their Google Reviews for better judgment.
Affordability. Some are free, and some with affordable pricing so you can adjust your project budgeting with better options — whether you're running simple or detailed marketing strategies.
Now we're ready to go in-depth and cover these four Keywords Everywhere Alternatives.
SurferSEO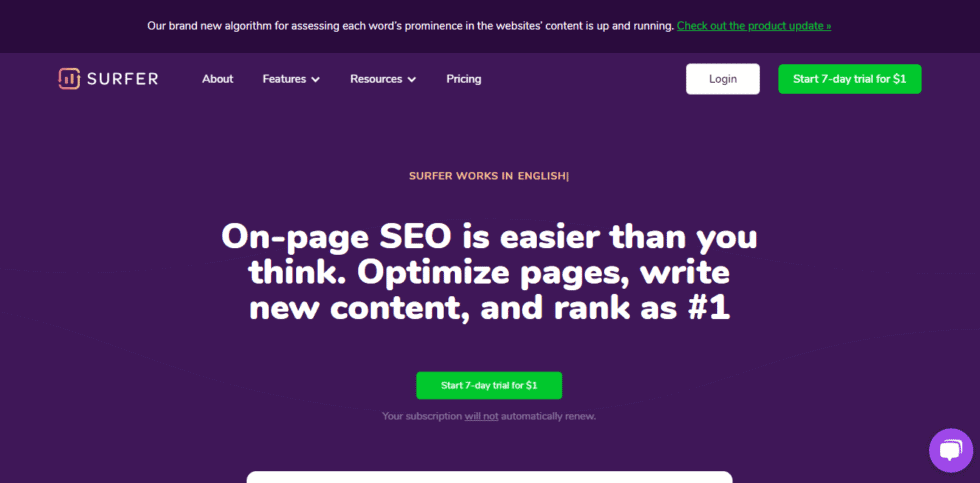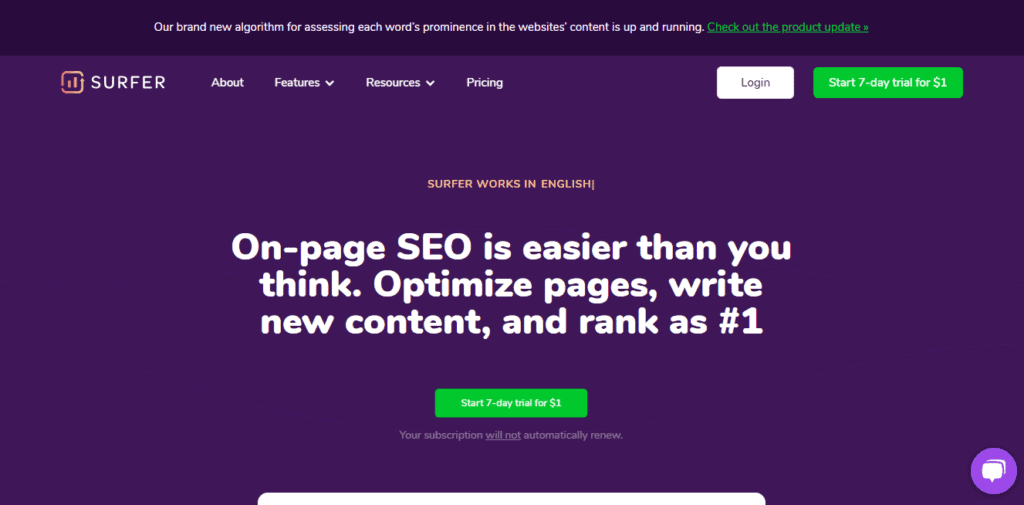 SurferSEO is an SEO tool that works best for blog posts or articles. Using the built-in keyword tool, the main feature SurferSEO offers is analyzing the search engine results page (SERP) to optimize the content through correlation suggestions that cover important terms, suggest a word count, and much more.
Included within SurferSEO is a great Keywords Everywhere alternative, which is Keyword Surfer. It's a free chrome extension that functions as a popup on your search results. By using Keyword Surfer, you can obtain accurate data for SEO activities.
You can check the other SEO tools from SurferSEO on the list below:
SERP Analyzer. As the name suggests, this feature optimizes the keywords' density by focusing on content length, the number of headings, and page speed.
Content Editor. This content editor has functions to help renew your old blog posts, create optimized landing pages, and help you create SEO-optimized copy for e-commerce.
SEO Audit. This audit tool works by analyzing your blog posts and landing pages by auditing landing pages.
Keyword Research. Like the Keyword Surfer, this tool provides more functionality that allows you to take actionable plans that combine keywords with all of the other three features of SurferSEO.
You can consider using the three features for more intricate SEO projects with plenty of keywords needs. SurferSEO also gets users' reviews that praise its accurate search volume or helpful customer support.
The pros of SurferSEO is that it's a data-driven SEO tool, works for multiple languages, and analyzes 500+ on-page signals. In addition, Keyword Surfer covers search volumes for more countries compared to Keywords Everywhere.
However, the tool's cons are the missing CPC feature from Keyword Surfer, competitors' comparison, and the pricing that might be expensive for some businesses, which starts at $59 per month for the basic plan.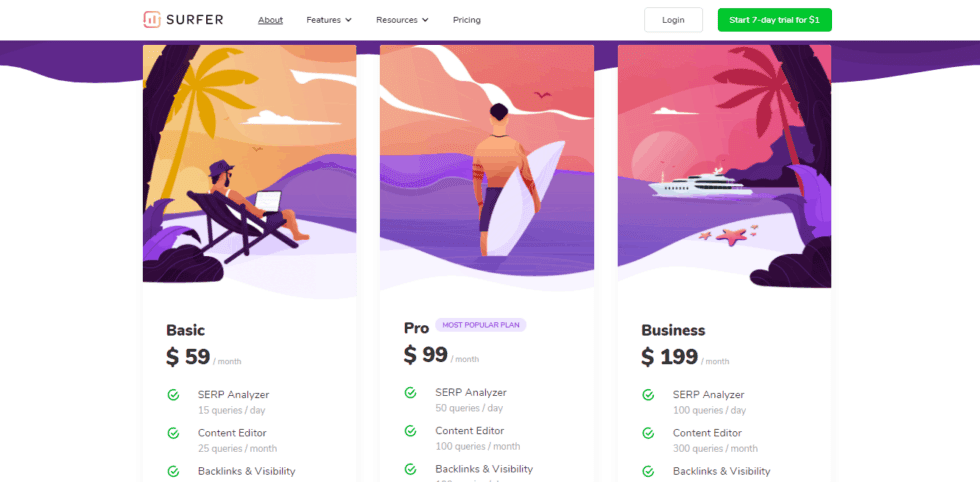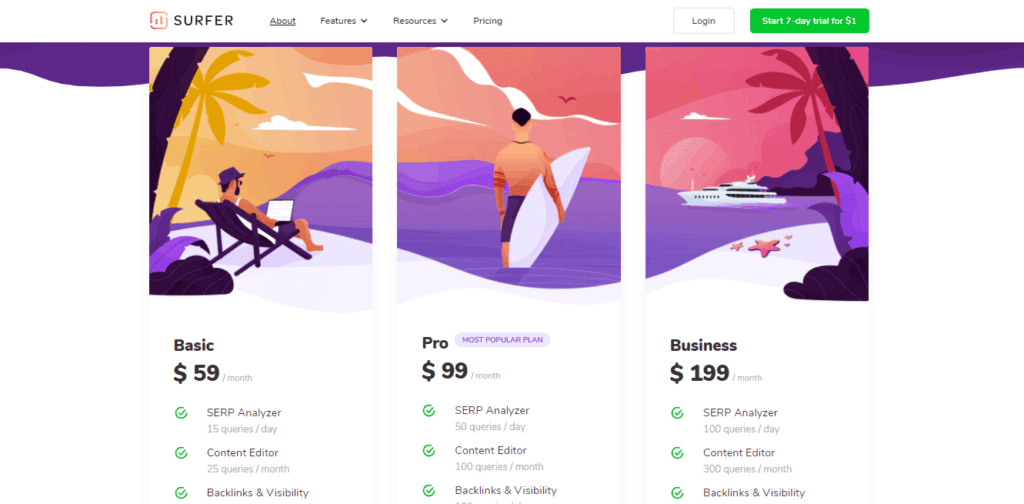 If this is your case, I suggest using their Keyword Surfer extension first to consider before purchasing the complete SurferSEO tools.
Google Keyword Planner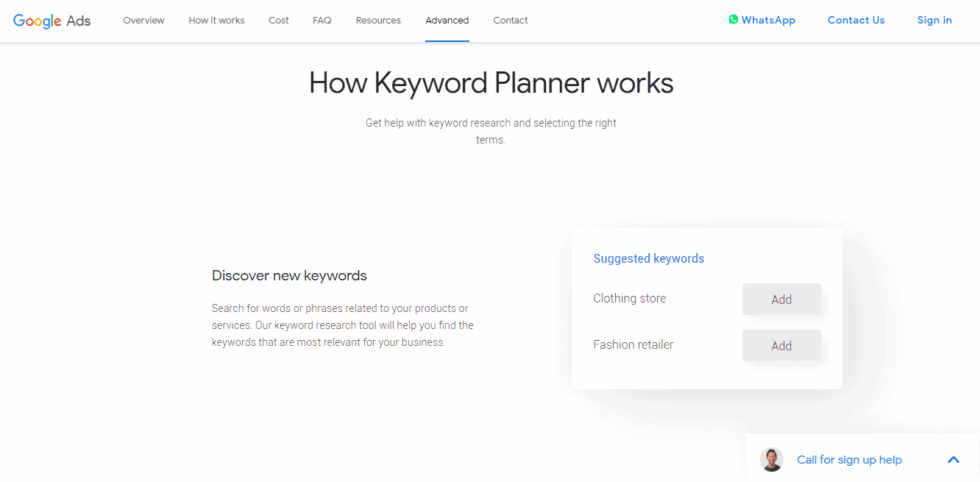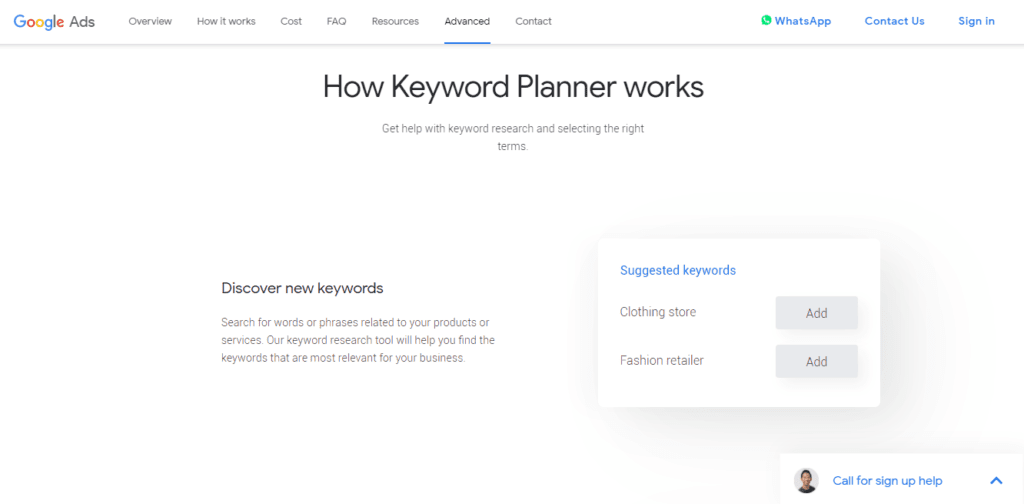 Like Keywords Everywhere, Google Keyword Planner works by showing you a list of relevant keywords and the number of monthly searches. However, it focuses more on the ad content and its search volume as it's a part of Google Ads.
To start using it, you need your Google account and activate Google Ads. Once active, it can create copy for ads, plan keywords for digital marketing, and search for the list of trending topics based on the search engine results.
The pros of the Keyword Planner are its user-friendliness, integration with all Google tools, and it's a free Keywords Everywhere alternative, which solves budgeting hassle. You can also export your data with CSV format that allows for better SEO and keywords reporting.
However, as Keywords Everywhere alternative, this Keyword Planner doesn't provide as much data to their users. For example, it lacks the filtering for keywords, and there are fewer keyword suggestions. It's also not a chrome extension, unlike other tools listed in the article.
Pros and cons aside, I recommend using another SEO tool from Google, which is Google Trends. With Google Trends, you can take data based on users' online behavior from the search queries volume. So, you can set better keyword ideas and use them for your content.
LiveKeyword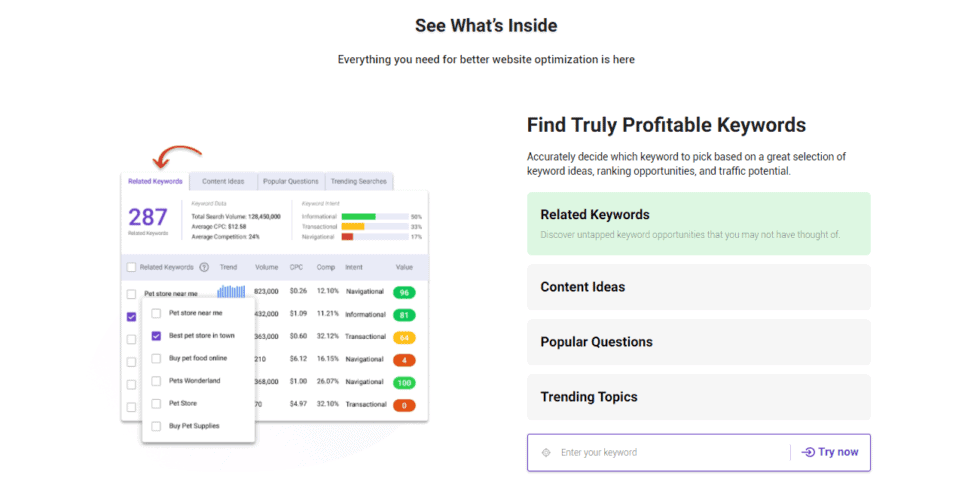 LiveKeyword is an add-on chrome extension created by BiQ that also provides important metrics, such as search volume, CPC, and competition data for SERPs. The tool has a convenient user sign up that happens after the first step of installing the extension.
It also shows similar keywords that further give better chances to improve SEO and your site's traffic and performance. Once you've installed it on your website browser, you can start using their main features that consist of:
Related Keywords. This feature lists the phrases of related searches and similar keywords taken from the audience, in addition to the keyword research tool.
Relevant Searches. Like the first feature, this one shows searches relevant to the list of your set keywords.
Keyword Data. This data supports the CPC, competition, and search volume.
They start with a free plan, consisting of 30 keyword and trending searches, content ideas, and popular questions. After the number limits are reached, LiveKeyword prices $0.10 for data downloads and $0.025 for the metrics.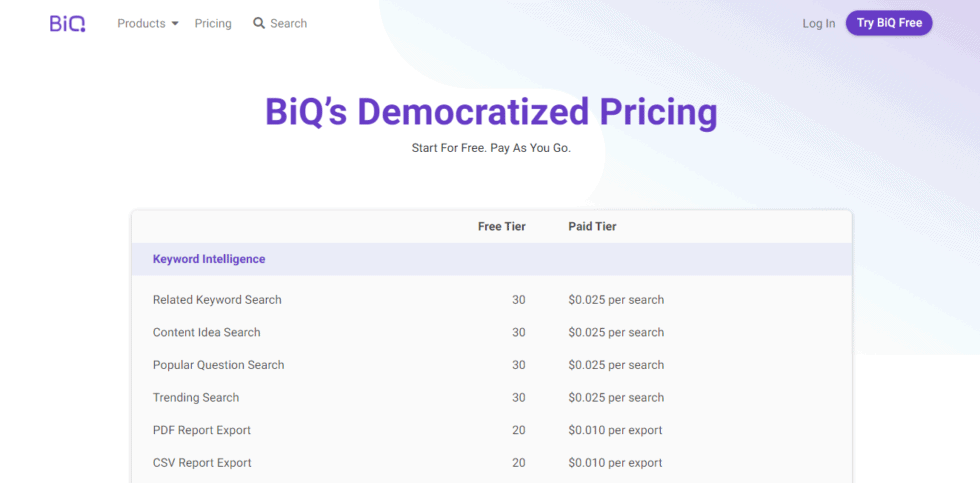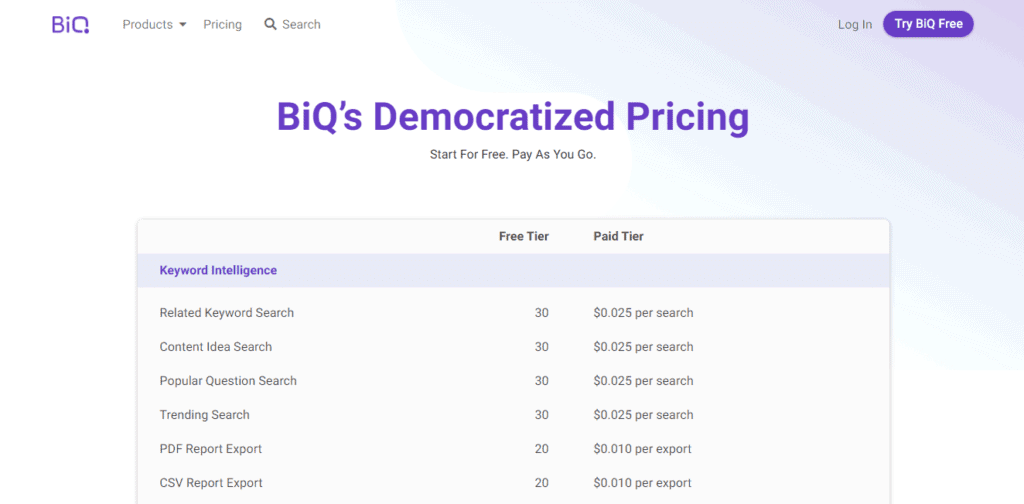 For me, this pricing system works because you only pay for what you need and can adjust them better with your projects. LiveKeyword also has plenty of positive reviews that can help you consider before choosing.
LiveKeyword is an excellent alternative to Keywords Everywhere because they offer similar features that work if you've been using it for a while. The extension also provides advanced tools, like keyword, content, and rank intelligence.
The downside of LiveKeyword is that it doesn't work on YouTube, Bing, and Amazon. Personally, it's understandable since LiveKeyword was just established this year. We can hope to see additional feature integrations rolling out with time.
Ubersuggest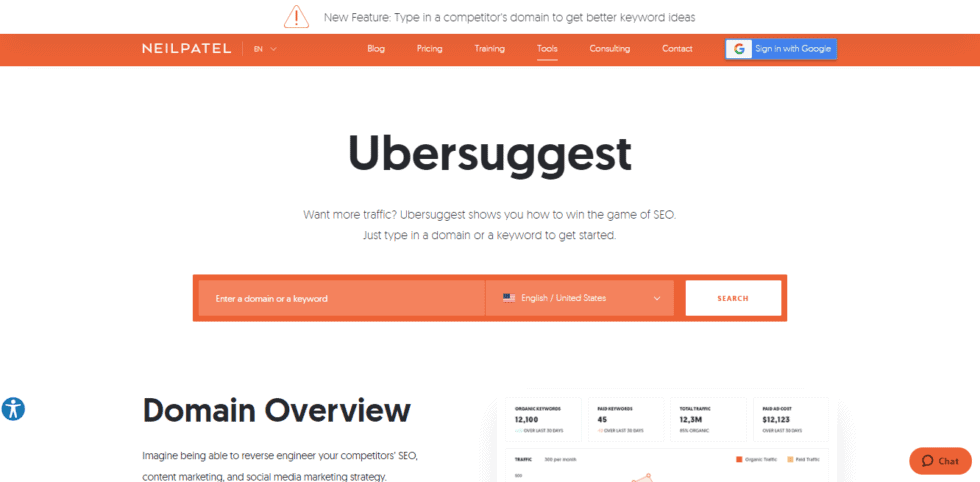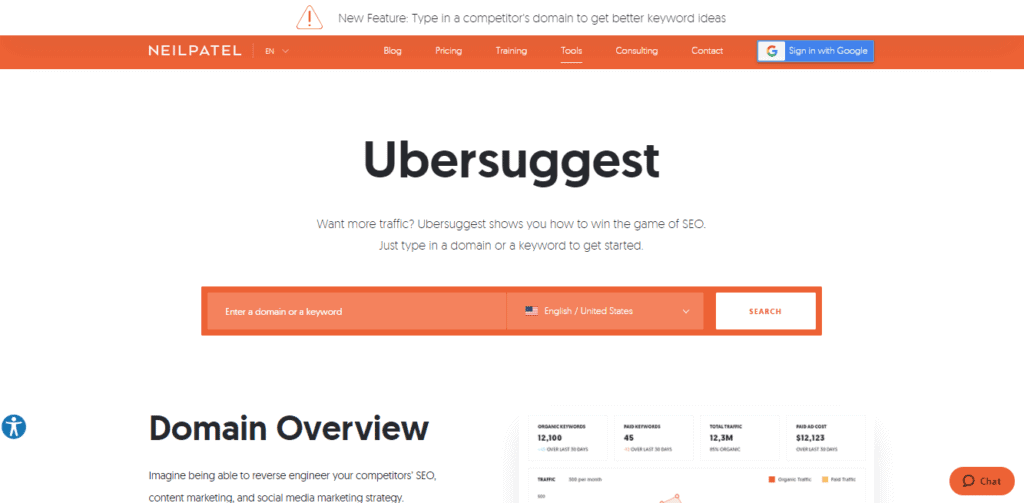 Last but not least, it's Ubersuggest. Ubersuggest—as admitted by the owner Neil Patel—is one of Keywords Everywhere alternatives and a keyword tool similar to the Google Keyword Planner. It shows you the search volume, competition, and CPC.
The tool works by providing relevant keywords, but also includes those not available on the Keyword Planner. Ubersuggest adds more metrics, like the average backlinks, top 10 search results. It also includes Pinterest and Facebook shares.
Depending on which platform you prioritize most, Ubersuggest can be the right alternative based on the metrics they include. It can be used to give an overview of a website's performance, like its link and domain score.
Ubersuggest's chrome extension is a free alternative to Keywords Everywhere, but it also has three pricing options. This pricing, which starts from $12 up to $40 per month, covers the main keyword extension while adding more things like SEO training and support.
This alternative is one of Neil Patel's SEO tools, so the community and users' reviews are more prominent than LiveKeyword. It's one of the reasons to go with Ubersuggest. In addition, it's also easy to use for beginners.
However, the cons of Ubersuggest are the limitations on specific target markets, the lack of features for page scoring, and a poor mobile layout. But I don't see any significant downside that prevents you from using Ubersuggest.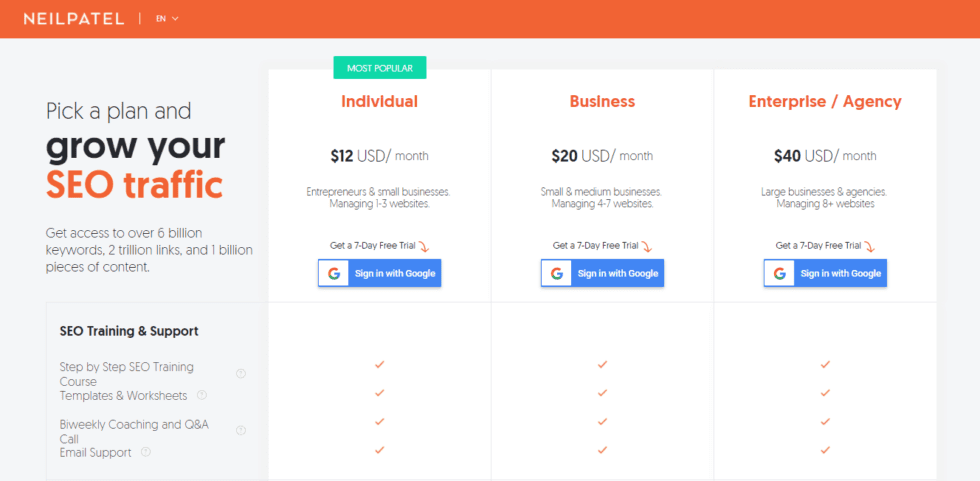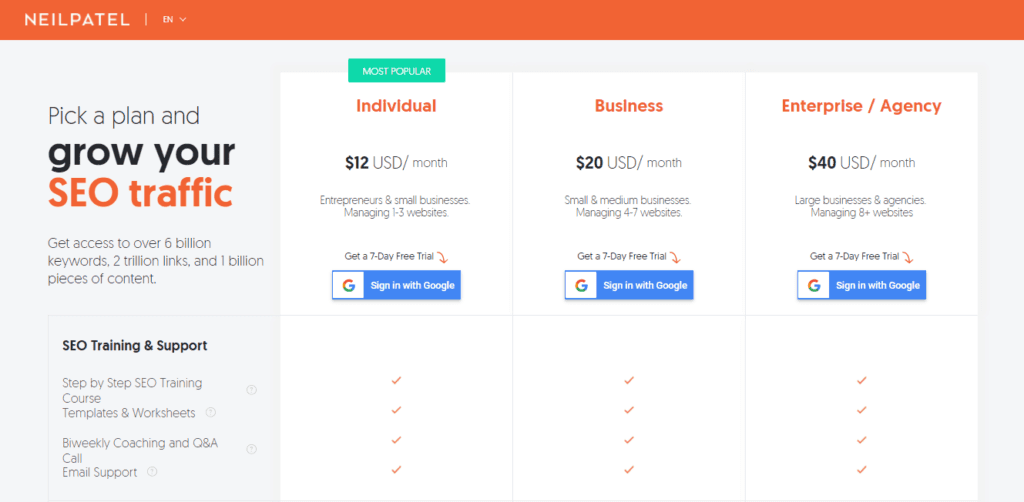 Wrap Up
The article introduced you to four Keywords Everywhere alternatives, where some are free tools and some with an added pricing model. The perks you're getting out of them are definitely worth it for your SEO project.
So, which one's the best alternative to Keywords Everywhere? If you ask me, then the best option depends on your needs.
If you have the time and effort to work with a new keyword research tool, I suggest finding a newer option that supports long-term planning and business growth.
Familiarity is your goal? Then the best decision would be the tool with features closest to Keywords Everywhere.
Let me know if you're choosing one of these Keywords Everywhere alternatives.