Instagram is becoming similar to Google with how its search function is designed. The accounts that appear first are there for good reason. They are most likely to meet your query's criteria best, as decided by Instagram's search algorithm. Chances are, the profile owner optimized it as well.
Not only that but since Instagram has surpassed one billion active monthly users, there are more out there who are eager to view content. It would be a waste not to utilize Instagram SEO to reach those massive amounts of users.
So, in this article, I'll provide you with six Instagram SEO techniques that can significantly help you gain more reach on Instagram search engines.
How Does Instagram SEO Work
Other than discovering your account by directly inputting the profile name into the search bar, you can be discovered by related keywords, suggested pages, and hashtags, or by popping up in the "Explore" section.
There are tons of factors that influence this, like your account's age and the connections you have – e.g., you're more likely to show up if someone's friend follows your page. Instagram now also monitors the accounts you view, photos, and videos you've liked and shared similar accounts, pictures, and videos that you might want on your home feed after you've viewed all the new posts and on the explore page directly.
Here are some ways you can use to optimize your Instagram profile to be found easier.
Optimize Your Bio and Handle
The very first step that you need to do is optimize your Instagram profile. Firstly, ensure that your profile is public. Use an easy-to-remember username and include the primary keyword you want to relate to within your Instagram bio.
You should also register your profile for an Instagram business account. These are the straightforward steps you probably already know, but take this as a reminder if you haven't done so.
Besides those steps, you should include keywords on your business profile related to your brand and what you're selling. For example, if you're selling bread, you should consist of the word "bakery" in your username and display name. Don't forget to have secondary keywords like "bread," "recipes," and other keywords in your bio.
Placing secondary keywords on your bio is great for attracting users who might've not searched for your primary keyword but might be interested in what your business is offering. Not only that, but Instagram also uses bios as a way to get more sense and determine what your account is about.
Hashtags Are Keywords
After you've optimized your profile, now it's time to optimize your posts and stories. Of course, Instagram users won't immediately find you or look for you directly. In this case, you should uses hashtags (#) on your posts & stories because they act as secondary keywords.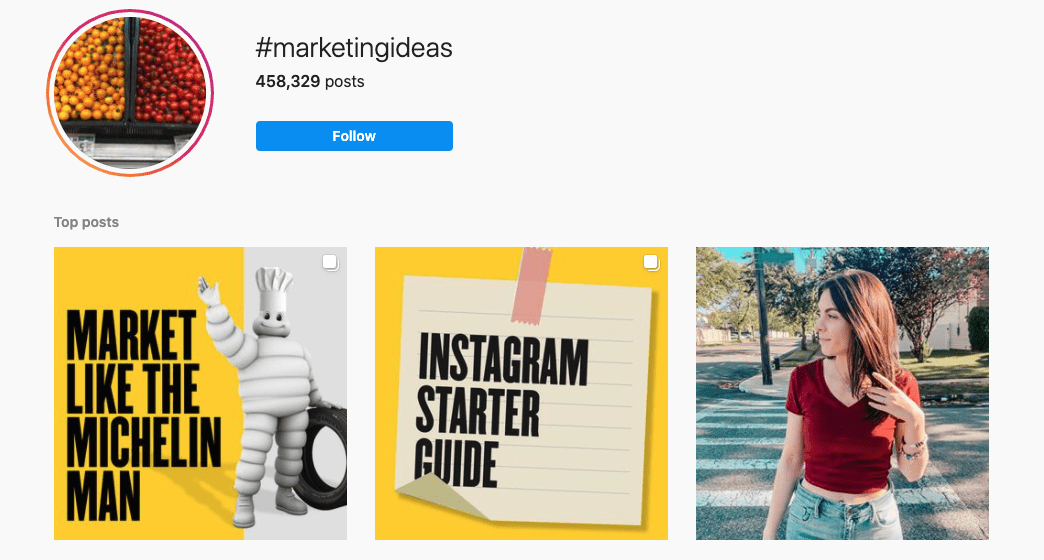 You should place relevant hashtags on your stories and posts because they will appear on the result pages when someone searches for the hashtags. Instagram hashtags should be able to:
Describe what is on the posts – for example, users looking for #vanillacroissant can stumble across your bakery account when you use the same hashtag on one of your posts.
Tell your location – for a more local approach to gain followers.
Reach your target audience and community – by using the hashtags that they use.
Avoid using hashtags like #likeforlike, #commentforcomment, or #followforfollow. The users who will view your posts are people who only want likes and follows in return for their posts too. Also, they might not necessarily be interested in your content at all.
Descriptions Matter
There are other ways to get your post discovered through the Instagram Explore page. One of the methods to do this is by creating descriptive and relevant captions on your posts.
As mentioned before, the explore page learns your behaviors like what posts you've seen, liked, and commented on before. That's why everyone's explore page is different. Recently, Instagram applied a new algorithm to the explore page called "word embedding," meaning that it looks at keywords written on posts to determine if they are relevant for you.
This means that you should carefully choose what to write on your captions of your posts. Ensure that you use descriptive keywords in your captions. This way your posts are more likely to appear on someone's explore page if they are interested in those words.
Use Alt Text
This is a new part and a little known feature on Instagram. It was initially designed to help visually impaired people to enjoy the Instagram experience. However, it can also be used as an SEO optimization tool. Other than helping people, Instagram alt text can too:
Make your Instagram posts appear on the front of search engines like Google – If someone searches for "different types of bakery pastries," your post about that can appear on Google if you've typed the Alt text about it.
Turn the Instagram algorithm to work for you – you choose the keywords you want to appear on Google of your posts. The algorithm will help you appear on the search results.
To get started, you can click edit on your existing post and look at the bottom right corner of your photo. There should be an option to Edit Alt Text. Another way is when you're about to post your photo, at the last step before posting it, scroll to the bottom to see the advanced settings option, then go to the Accessibility section, and there will be a Write Alt Text option.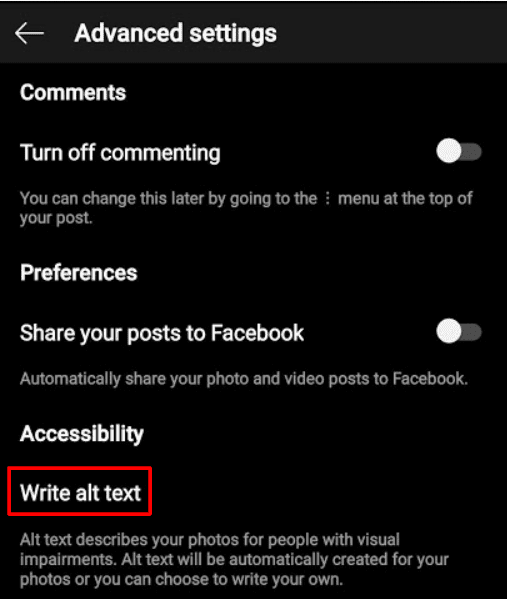 UGC is Your New Best Friend
User-generated content (UGC) is any type of content, whether it is images, videos, texts, reviews, and other types of content created by users instead of brands. There are two main types of UGC on Instagram: content shared in stories and content shared in posts.
Businesses tend to share and repost UGC done by their customers on their Instagram accounts and other social media platforms. You should do the same by highlighting your customer stories and posts on your own profile using other hashtags. This will encourage users to tag you in their posts for a chance to get highlighted on your page.
If you don't have a lot of customer feedbacks yet, you can repost other people's posts/stories on your page, with their permission, of course, so that you get more recognition from their followers as well.
Avoid Bad Practices
It's not just Google who punishes users for using black hat SEO tactics, which are tactics against search engine rules. Instagram is now applying, too, and even introduced its banning system called shadowbanning.
Instagram creates it to essentially block all of the user's content from ever appearing on anyone's feed, explore page and search results, and not know that it is happening. Only their followers can see their contents.
Some of the black hat SEO tactics that you should avoid are:
Keyword spamming – the events where you include many keywords on your profile or posts that are entirely unrelated to your offering or posting to attempt appearing in various search results.
Stealing content – posting other people's content as your own without adding any transformative qualities.
Buying followers and likes – this is done to appear that your Instagram account is already a well known and trusted one.
Using bots – just like buying followers and likes, there is an option for bots to come to your site and like and comment on your posts.
Yes, it might take time to gain many new followers and reach, but taking the easy way will not work. Doing it the right way, and implementing good practices will be far more rewarding in the end. You don't want to jeopardize your brand image ever, especially very early in the game.
Diligently post new content with outstanding quality and interact with other people. Slowly you'll gain more followers and reach.
Wrap Up
Now you know the six Instagram SEO techniques that will help you widen your reach. Let's recap on what those six techniques are:
Optimize Your Bio and Handle
Hashtags Are Keywords
Descriptions Matter
Use Alt Text
UGC is Your New Best Friend
Avoid Bad Practices
All that's left for you now is implementing these techniques to your Instagram account and watching as you slowly yet surely gain more popularity. A tip and reminder from me are always going for good practices and avoiding using black hat SEO techniques. Good luck!