Geofencing marketing is location-based technology, which gives companies the ability to target an audience within a specific geographic radius.
It builds a virtual boundary around a physical location using a global positioning system (GPS), WiFi, or cellular data on mobile devices.
In this article, you'll learn the difference between geofencing and geotargeting, how geofencing works and how it can benefit your business. This article also discusses how to set up geofencing and gives examples of how large companies use it.
Geofencing vs. Geotargeting: Are They The Same?
In digital marketing, geofencing and geotargeting are often used interchangeably because both are location-based mobile advertising strategies. Yet, they're not the same.
Geofencing
Geofencing aims to send highly targeted ads to regional customers, so the geofence can only be set up to 1,000 meters. This strategy helps various businesses, such as restaurants, retail stores, and medical practices, encourage their target market to buy/visit locally.
Geotargeting
Meanwhile, geotargeting, also known as zoning, refers to a consumer targeting strategy based on certain criteria, like interests and locations. This marketing strategy works better for larger locations and geographical users because some filters can be specified, including keywords and demographics.
Beacons
Another term popping up in location-based marketing is beacon technology. If geofencing attains location data using a WiFi network or cellular data, beacons apply Bluetooth to signal the advertising and push notifications. They operate in a smaller area than geofencing of about 1 to 30 meters only.
You can use beacons to enhance your geofencing campaign because they're complementary technologies. Apply geofencing to attract users, then interact with them using beacons when they're inside your store.
How Does Geofencing Marketing Work?
Geofencing mobile marketing detects the IP address interaction between devices via network data and GPS.
Here's how it works: you pick areas to build the "fence." Thus, whenever smartphone users enter the geofenced area during the set timeframe of your campaign, they will be the target users and receive the ads.
Users can receive geofencing marketing messages through various marketing channels, such as banners in mobile apps or social media posts.
What Are The Benefits of Geofence Marketing?
Let's explore how the power of geofencing marketing can benefit your business campaigns.
Increases brand awareness. As people around the geofence see the ads, this location-based marketing strategy helps them recognize your brand.
Enhances your local sales. When local business owners send messages containing discounts to the target audience, they let prospective customers know the current deals and entice them to visit their store and make a purchase.
Provides personalized messages to the audience. This technology lets your business learn the audience's profile and send different messages during a particular time frame, such as afternoons or weekends. You can make them feel special by delivering precisely targeted ads in real-time to their mobile devices.
Provides a deeper insight into the analytics. When users respond to the geofencing ads, marketers can analyze their data, such as how long they stay in the store or how often they visit it.
How to Set Up a Geofencing Marketing Strategy
Geofencing marketing opens a variety of opportunities to boost your current marketing and advertising approaches. Here are five easy steps to designing a perfect geofencing marketing strategy.
1. Create an Accurate Geofence
To set up a geofence, use geofencing marketing software, such as PlotProjects or MoEngage. This software will help you define the parameters, including the center point, desired radius, duration, and notification.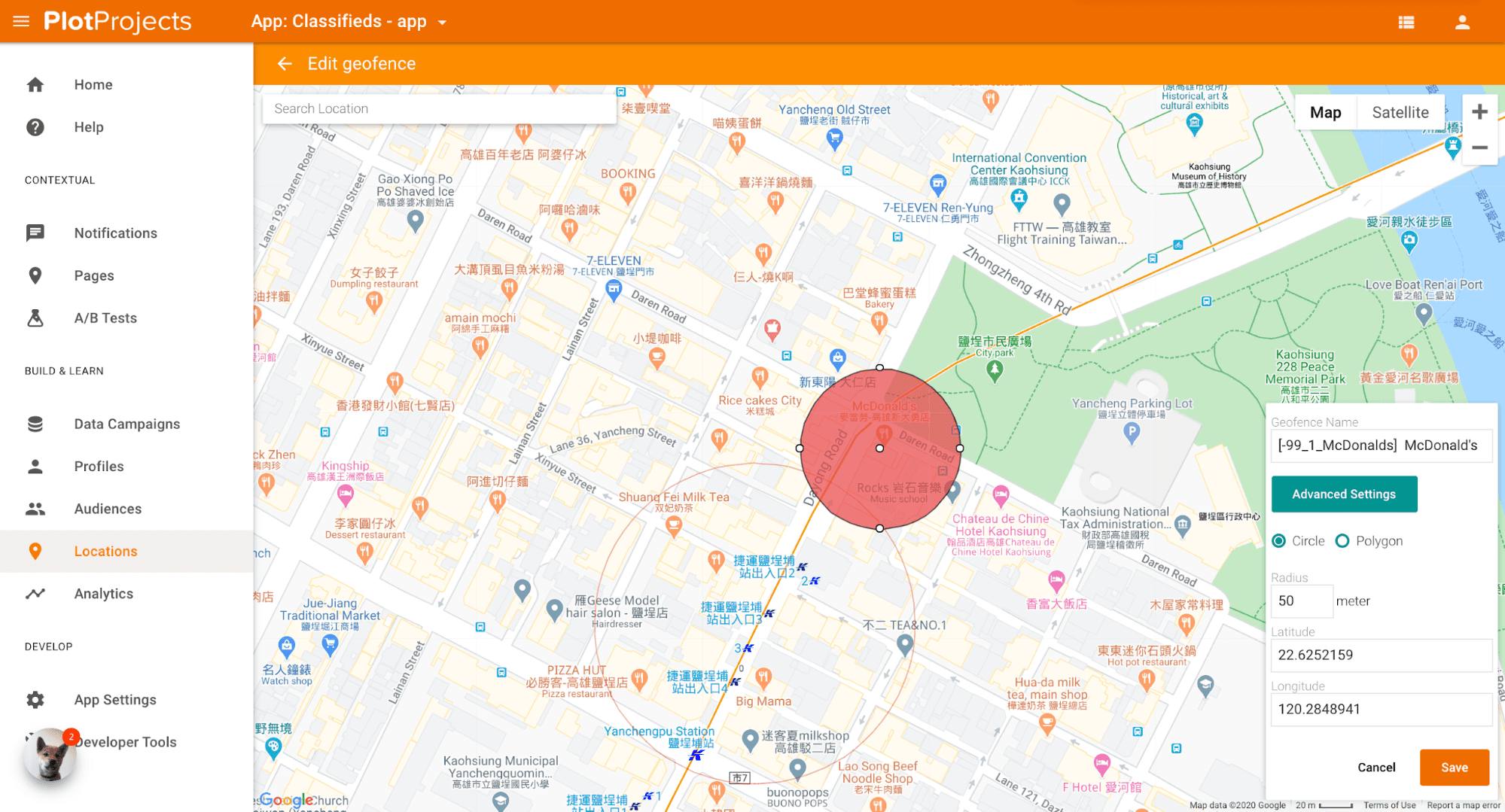 The radius can be a circle or polygon. For best results, keep the geofence hyperlocal by setting it between 100 to 150 meters. Targeting a broad audience could backfire as people far away from the location may not think your ad is relevant.
Here is a list of geofencing locations to help you find places or consumers to target:
Your business location
Competitor areas
Event targeting, such as concerts and expos
Addressable geofencing or households
Shopping centers
Nearby stores and streets
When choosing the locations, always think through the customer journey by asking yourself where most customers go before coming to you.
2. Research Your Target Audience
Getting to know your target audience helps you understand who they are and what they want. As a result, you can develop marketing strategies or content that interests them.
Analytics tools on social media, like Facebook and Snapchat, can be helpful as they display targeting options based on various characteristics and aspects, such as:
Geographic. Includes location data, like metro, zip code, and radius. You can also exclude a certain geographic area that you don't want to target.
Demographic. Consists of the audience's demographic profiles, like age and gender.
Behavioral. Targets customers based on their behaviors, such as their visit or purchase histories. Several companies can go more into detail. For example, hotels target travelers based on their frequent trips, and packaged goods companies want to know the downloaded apps of their audience.
3. Design an Appealing Advertisement
When creating an ad for geofence advertising, consider using different types of creative ads to see which one resonates with your target audience the best. You can use images, GIFs, and videos.
If you have an extensive target market, you can produce personalized ads for each group to show you're talking directly to them.
To encourage potential customers to act, ensure you use a clear call to action (CTA) for each advertisement applying a strong command verb, like "Visit us" or "Check our new product." Also, create a sense of urgency by offering a time limit to your promotions or discounts.
Avoid sending spam or self-serving messages. For example, if you promote a new product, you'd better invite the consumers to try it rather than tell them to purchase it.
4. Use Various Geofencing Techniques
Well-rounded geofencing tactics are helpful to reach different kinds of audiences and create a plan that meets customers' needs.
There are some geofencing marketing techniques to conduct.
Context targeting. Displays an ad on relevant platforms or events. For instance, showing a makeup brand ad during beauty pageants.
Content targeting. Involves target keywords based on the audience's intent. For example, when you have content for the keyword "restaurants with a pool," ensure you include your business location.
Retargeting. A marketing strategy that includes showing an ad to customers that have visited your site or location.
Dayparting. Targets the audience at specific periods. For instance, running promotions during the weekends.
5. Analyze and Refine Your Marketing Efforts
After launching the geofencing campaign, measure the success to see which marketing efforts benefit your business or how you can optimize them.
Here are several metrics for assessing your geofencing marketing campaign.
Customer engagement. Includes mobile marketing strategies' success, such as the use of points, coupons, and average visit duration.
Store footfall. Calculates the number of outside potentials – people passing by the store – and new and unique visitors.
Customer experience. Estimates the wait time or store layouts.
Sales. Refers to your business profits.
Examples of Effective Geofence Marketing Campaigns
As explained above, this marketing strategy can be beneficial for many kinds of businesses. Here are real-life examples of geofencing advertising campaigns used by major brands. We hope they help to get you inspired and show how you can implement geofencing into your marketing campaigns.
Coca-Cola: Share-A-Coke
The Share-A-Coke campaign allows consumers to personalize bottles or cans of coke with their name using an app. Then, the company will ship the personalized bottles of Coke to them.
Coca-cola also encourages social media engagement by asking people to share photos of the products with the hashtag #shareacoke.
Why it works: Coca-Cola connects customers personally. It lets them share the moment and promote the product without realizing it. For example, a consumer sharing a bottle of Coke with friends will feel like honoring them rather than promoting their campaign.
Sephora: Store Companion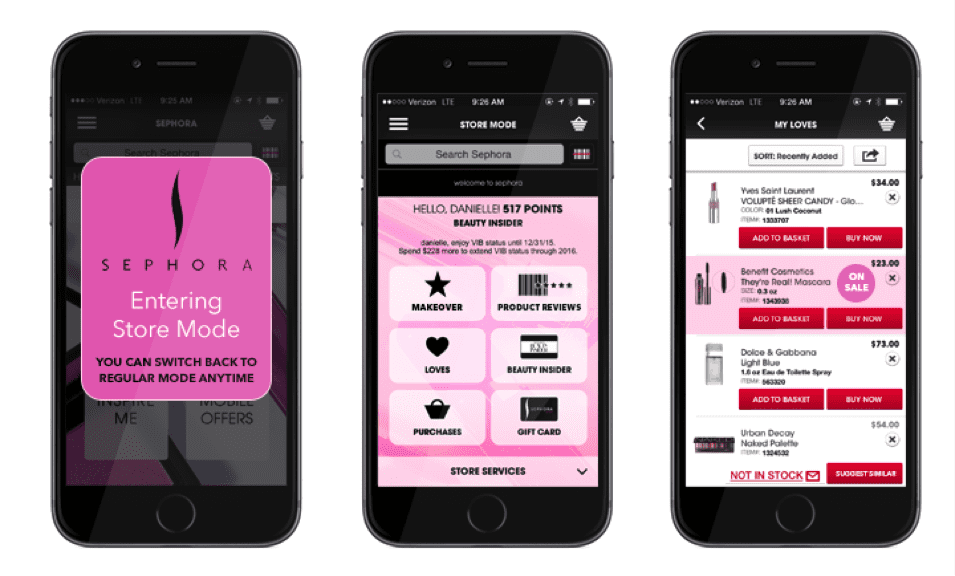 Store Companion is Sephora's mobile app. When a customer walks into their retail location, the app will list past purchases, product recommendations, and current promotions. This marketing tool also notifies users about the availability of the products on their wishlist and whether they have any unspent gift cards.
Store Companion's advertising campaign boosted Sephora's loyalty program members by 25 million and granted Sephora the top rank in Sailthru's Retail Personalization Index.
Why it works: The geofence technology helps Sephora create a seamless customer experience by delivering personalized shopping information based on the users' location.
Dunkin' Donuts: Social Media Filters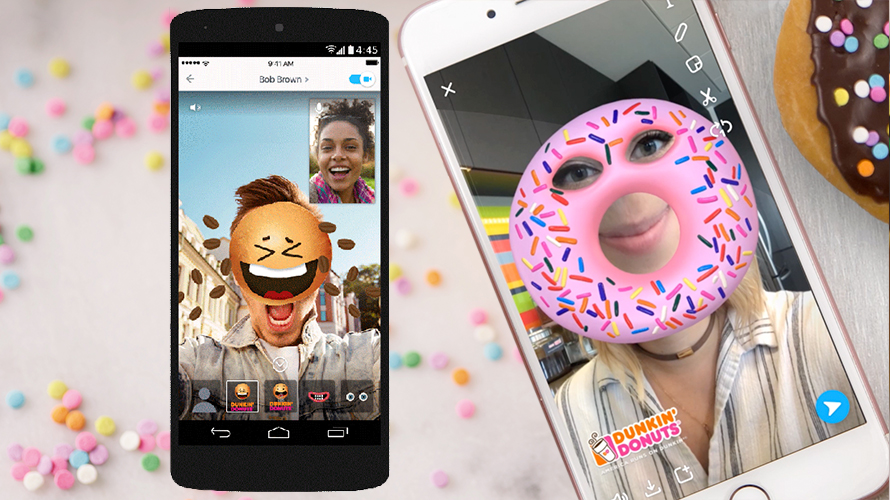 Dunkin' Donuts also uses location-based marketing for some special occasions on National Donut Day and Valentine's Day.
First, the brand integrates social media, especially Facebook Live, to announce their campaign about Instagram or Snapchat contests using their filters. One requirement is that users visit a Dunkin' Donuts restaurant, the geofencing area, to access the content via their devices.
Why it works: The brand cleverly chooses special moments and uses popular social platforms like Facebook, Instagram, and Snapchat.
No wonder the company had significantly increased its traffic, followers, and sales after the campaign.
Volkswagen Dealership: Geoconquests Competitor Shops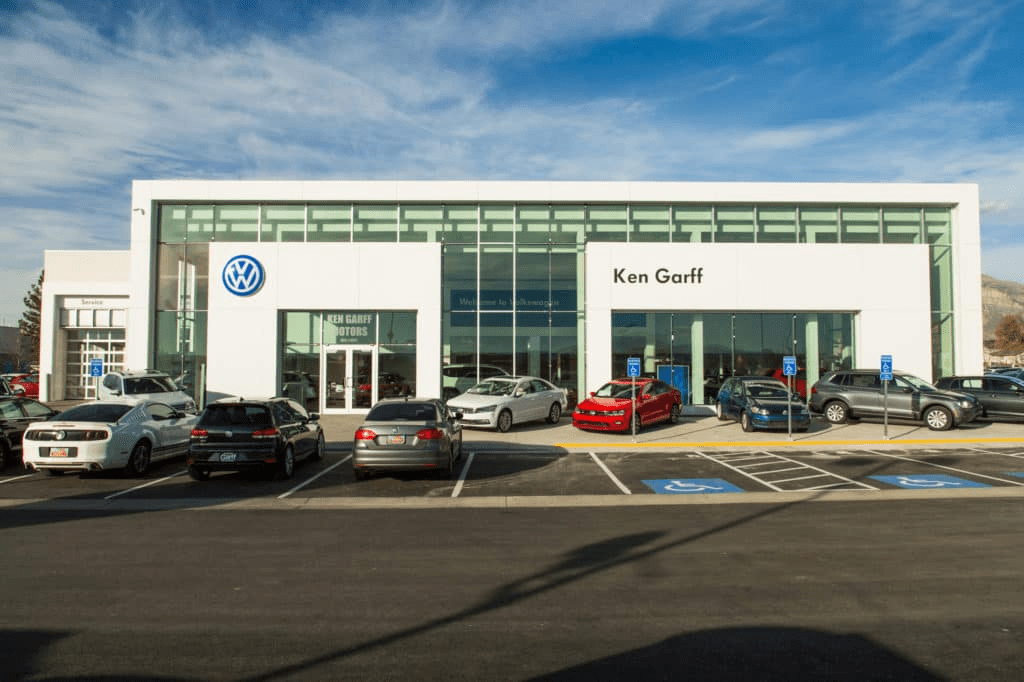 The geofences aren't always set around your retail store. You can target the audience on competitors' stores like what the Volkswagen marketing team does.
Once potential consumers enter the geofence on the competitors' showrooms, the brand will push notifications or display ads for them.
Why it works: After using data from the competitor analysis, Volkswagen understands the competitor's offering and price point. Then, they place an ad at 1,000 feet around every competitor's dealership address when the customers are probably waiting for a salesperson or looking for another option for a new car.
Johns Hopkins All Children's Hospital: Talent Acquisition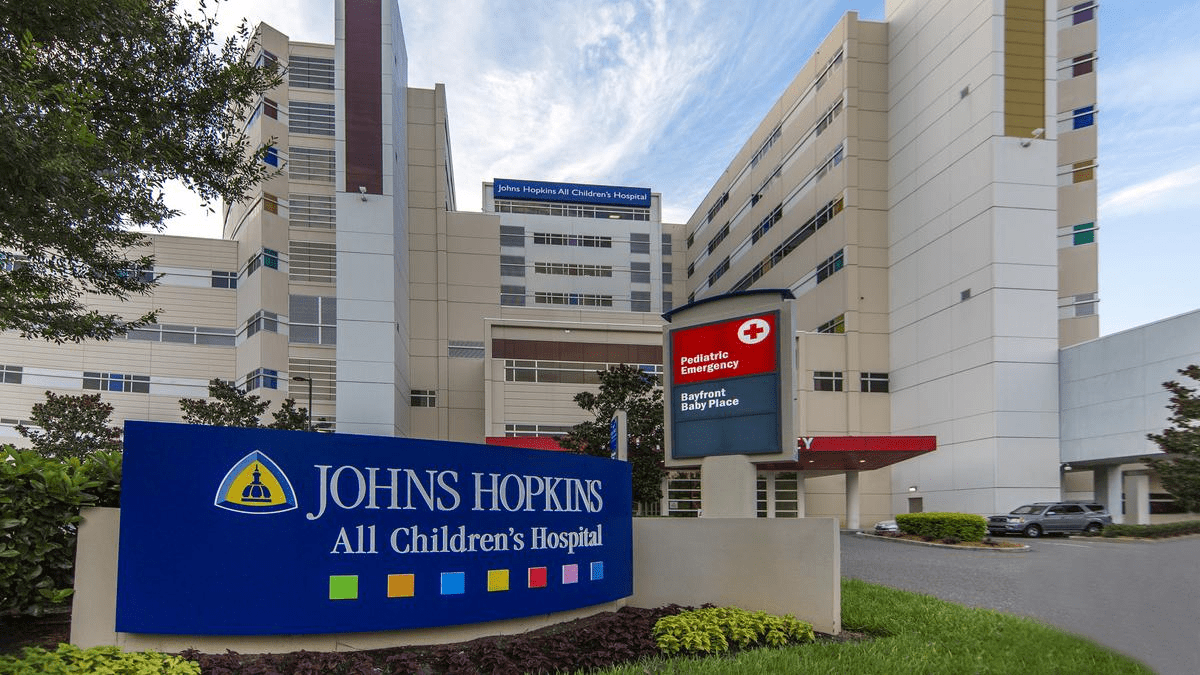 Geofencing technology doesn't only play roles in growing and engaging with customers but also in hiring professionals. The hospital targets people living or working around their location via social media advertising.
Why it works: This geofencing strategy helps Johns Hopkins filter qualified candidates with specialized experiences around their location. It helps them avoid receiving applications that don't fit their requirements, such as living far away from the hospital and having unsuitable professional history.
Conclusion
The mobile device's popularity has made geofencing a powerful marketing tool. This location-based marketing method can help grow sales, create personalized ads, and attain in-depth customer analysis.
Like Sephora and Coca-Cola, marketers from reputable businesses have stepped up their marketing and advertising efforts using geofencing marketing, and now it's your turn. Use this article as a guideline and start organizing your geofencing strategy too.