As a marketer, you always want to learn new things and keep up with the latest marketing trends. However, it's hard to find enough time to follow all marketing news and articles about the updates, and you might not even fully grasp what those marketing updates are about.
Well, that's where newsletters come in. They're used to not only provide discounts, promotions and news for customers but also valuable insights and compiled updates of the critical marketing trends.
Based on recent marketing statistics, about 85% of marketers use email marketing (newsletters) to assist their content marketing strategies. Also, in 2019 the U.S spent more than 350 million dollars on email marketing alone.
This article will list the 15 best newsletters you should subscribe to, each in different niches and covering unique features and benefits that you want to take advantage of.
Let's get started.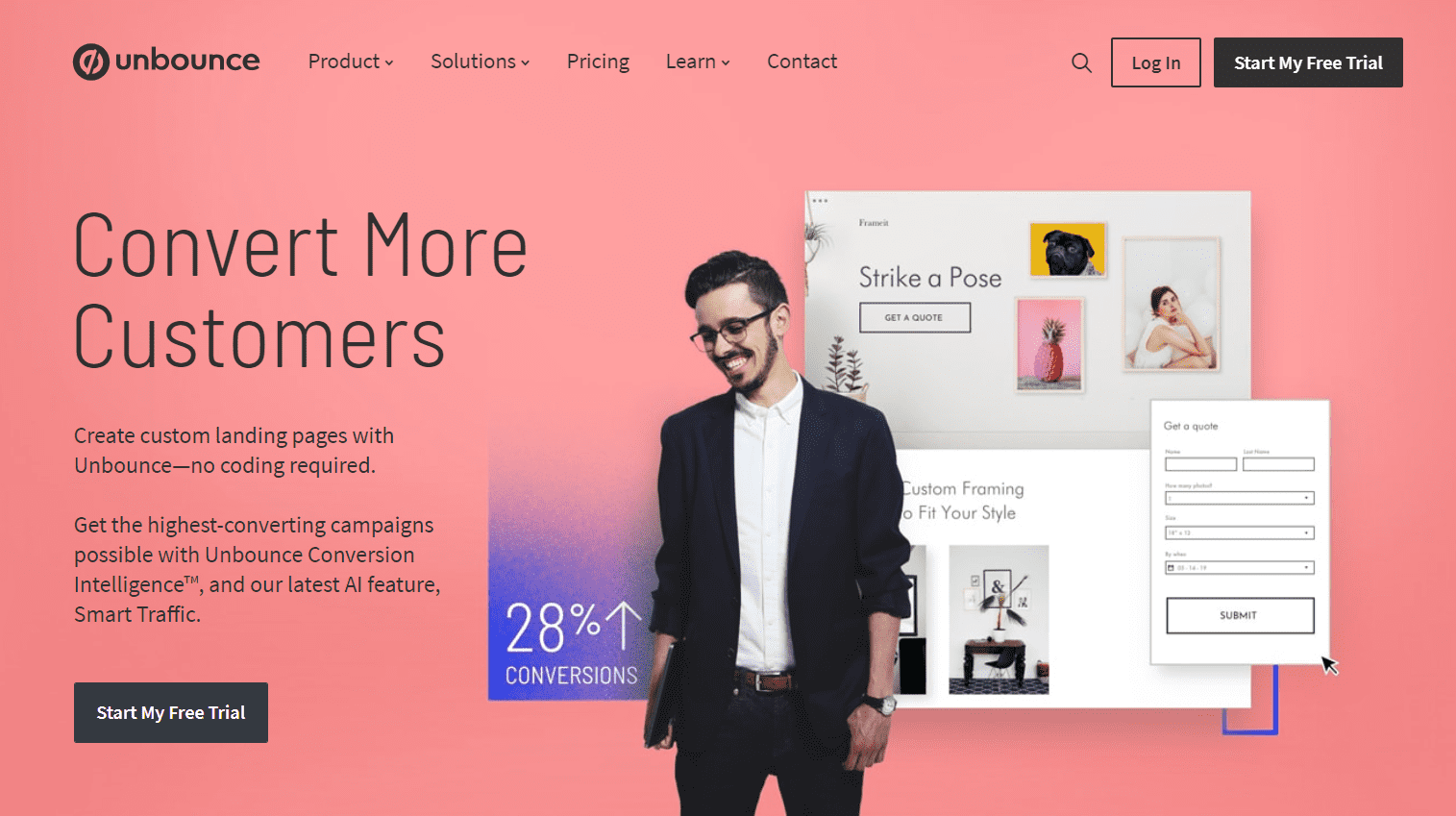 If you're looking for a marketing newsletter that focuses on landing pages, look no further because Unbounce got you covered. As a platform, it's a remarkable web design tool that lets you add overlays and templates to create the best landing pages for your website.
They've recently surpassed the 250 million conversion mark for their clients, meaning that they know what they're doing, including their email marketing.
Of course, their newsletter is filled with detailed valuable information about landing pages, how to increase conversion rates, and many more topics surrounding the landing page niche.
What's great about them is that marketers can choose whether to receive the newsletter daily or weekly. No matter your choice, you'll still get industry news and the best advice on boosting your marketing efforts.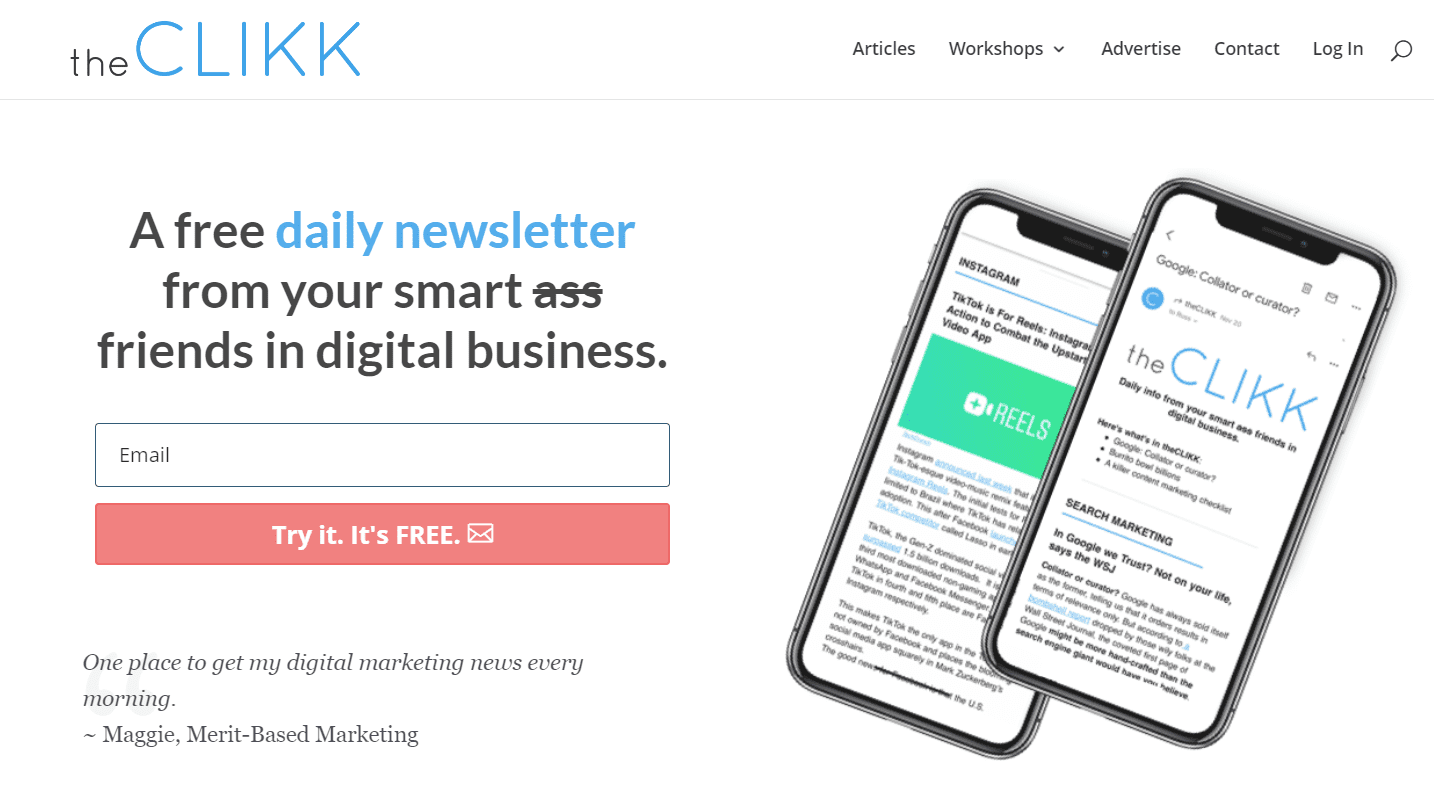 The Clikk is probably the closest thing you can get to an all-purpose email marketing newsletter. It combines critical industry updates, marketing content, and best practices.
What's unique about them is that they deliver the updates using humor in their writing, often including puns and slang words, making it one of the easiest email newsletters to digest daily.
The newsletter divides its content into a multi-series, which is done daily. By the end of the week, you'll get the full information about a topic.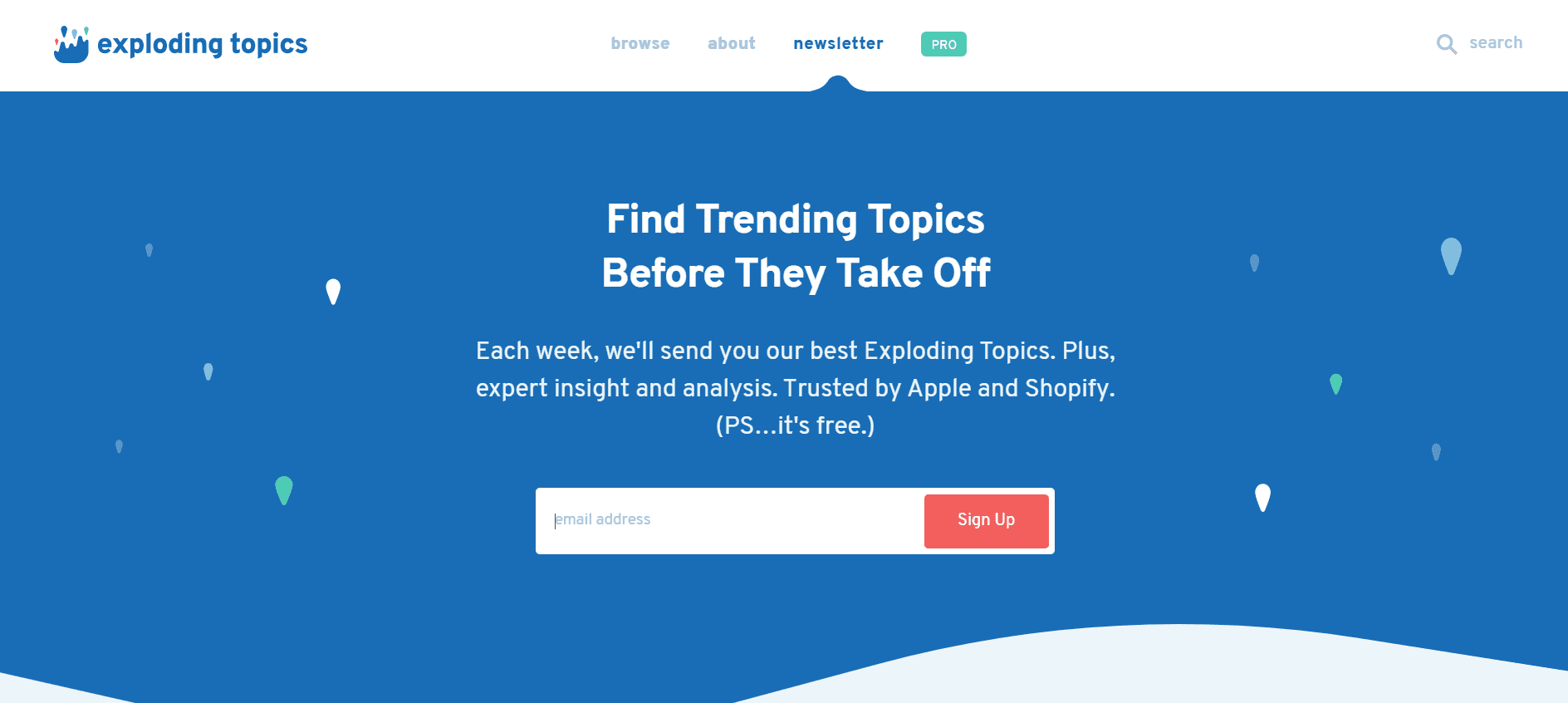 If you're looking for a digital marketing newsletter that promotes emerging trends before they become mainstream, then Exploding Topics is your go-to newsletter.
Using their back-end technology, Exploding Topics scours social mentions on social media and internet searches to see which topics are about to "explode" or become a trend.
They then filter the best ones and send them in its weekly newsletter to your email. They also give some background information as to why those topics might become trending.
This is an invaluable tool for your marketing efforts because you can spot trends and utilize them before your competitors do.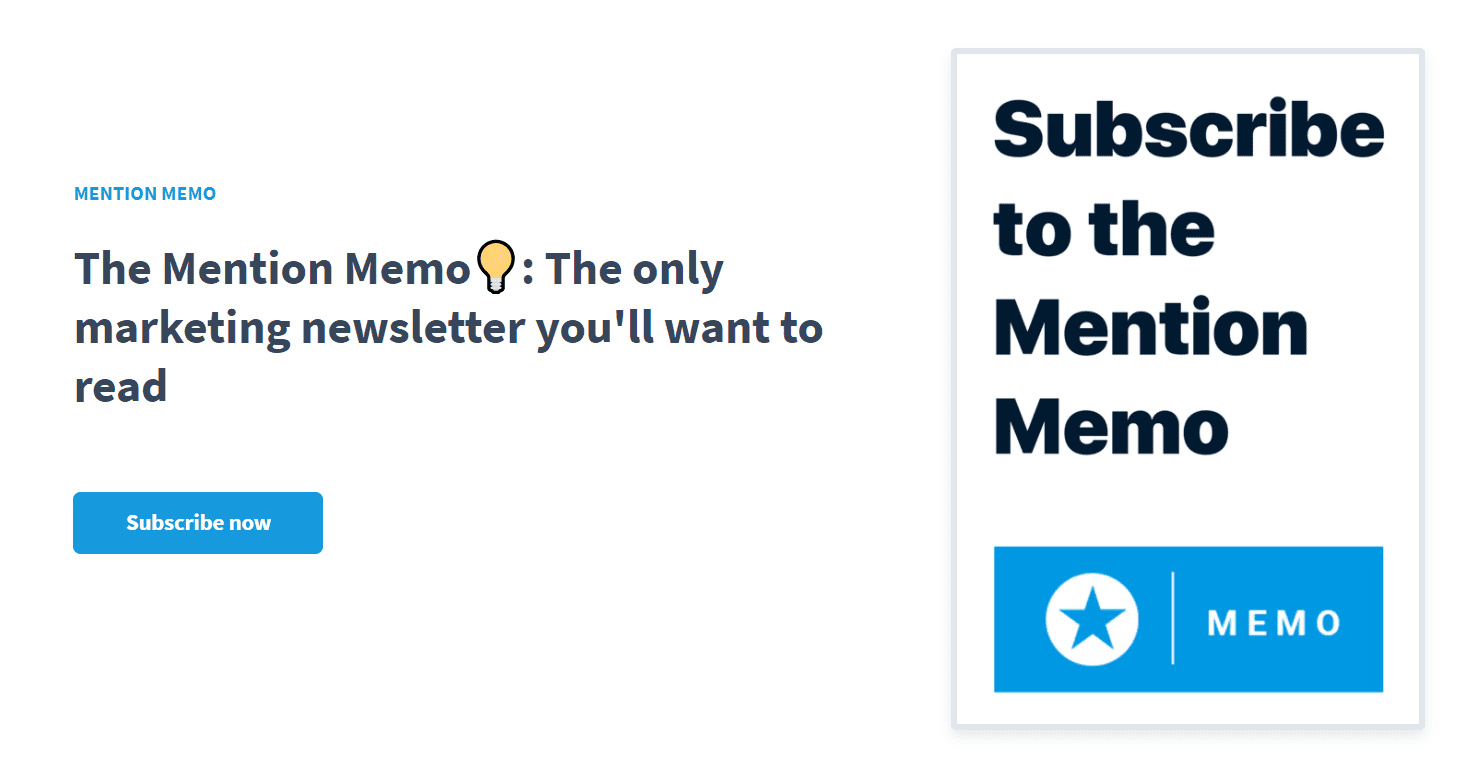 The Mention Memo is another email newsletter that looks upon trending marketing topics. It sends out a weekly newsletter with cool gifs and insightful commentary taken from Instagram stories, Facebook marketing, and significant-tech trends.
Their newsletters are very visually appealing and stand out from various other marketing newsletters due to the innovative inclusion of gifs and photos.
Plus, they provide free valuable resources and practical tips and tricks that you can incorporate into your existing marketing strategies.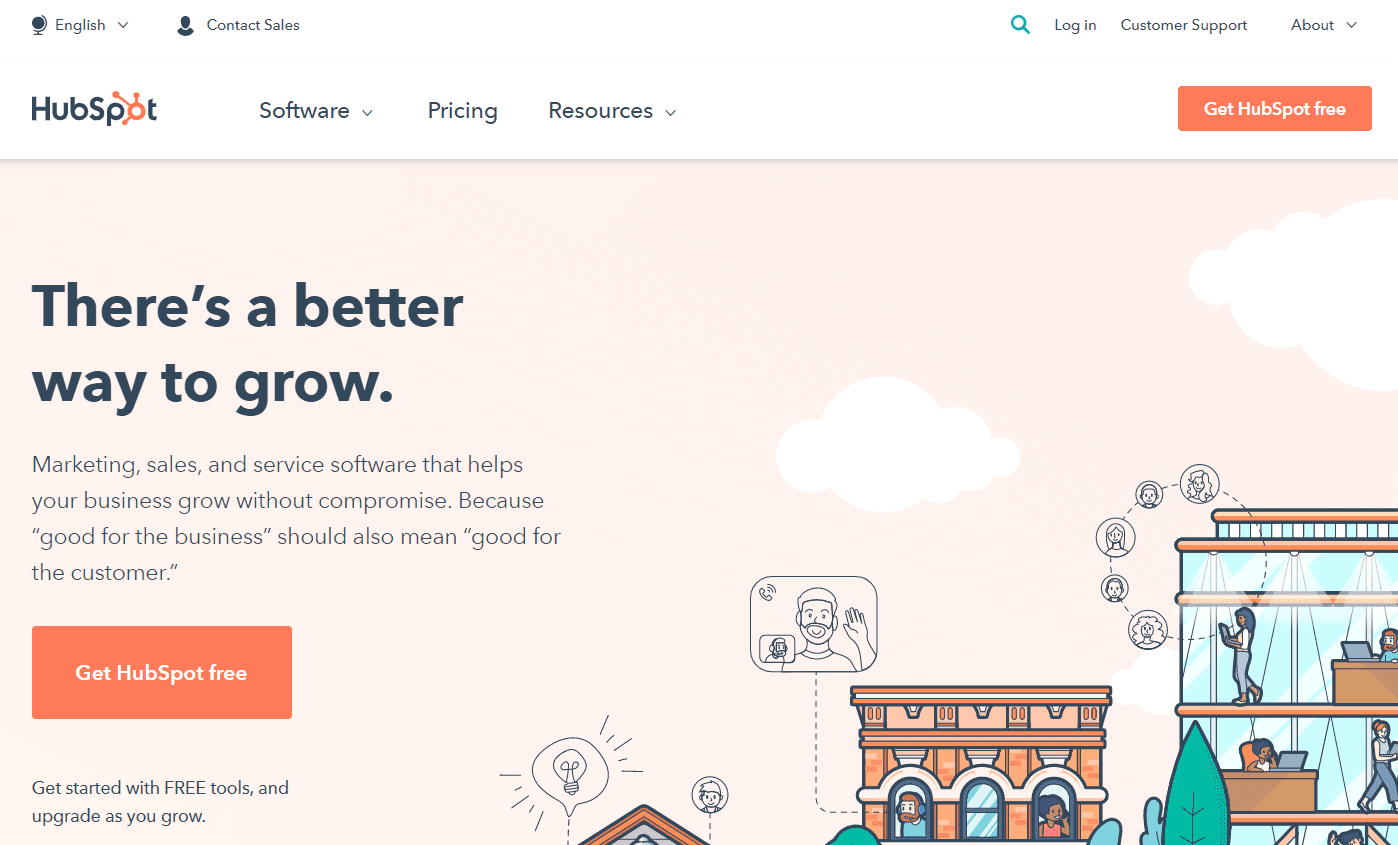 Hubspot's marketing blog newsletter is another all-purpose email newsletter. It provides various kinds of information ranging from search engine optimization (SEO), social media marketing, content marketing, email marketing, lead generation, and other marketing-related topics.
Hubspot has four different newsletters, each designed for Sales, Services, Marketing, and Agencies. Here, you can freely decide which newsletter you want to subscribe to and determine the frequency of it, be it weekly or daily.
Besides their newsletter, Hubspot also provides other excellent free content like blog posts, free cheat sheets and eBooks, and an interactive quiz.

Called 'Inside Intercom,' their email newsletter focuses on providing marketing content that follows the company's overall theme, which is the management and customer relationship. But they don't limit themselves to those two topics and offer various other marketing topics like the latest tech trends and startups.
The newsletter is released once a week, and you'll get all the latest news about those topics mentioned above.
What's unique about Inside Intercom is that the team involved in creating the newsletter comment on the topics being discussed, showing that they genuinely do love what they're doing.
Intercom's base is as a customer service app. It allows full integration with different communication mediums, yet they expand their newsletter covering other topics.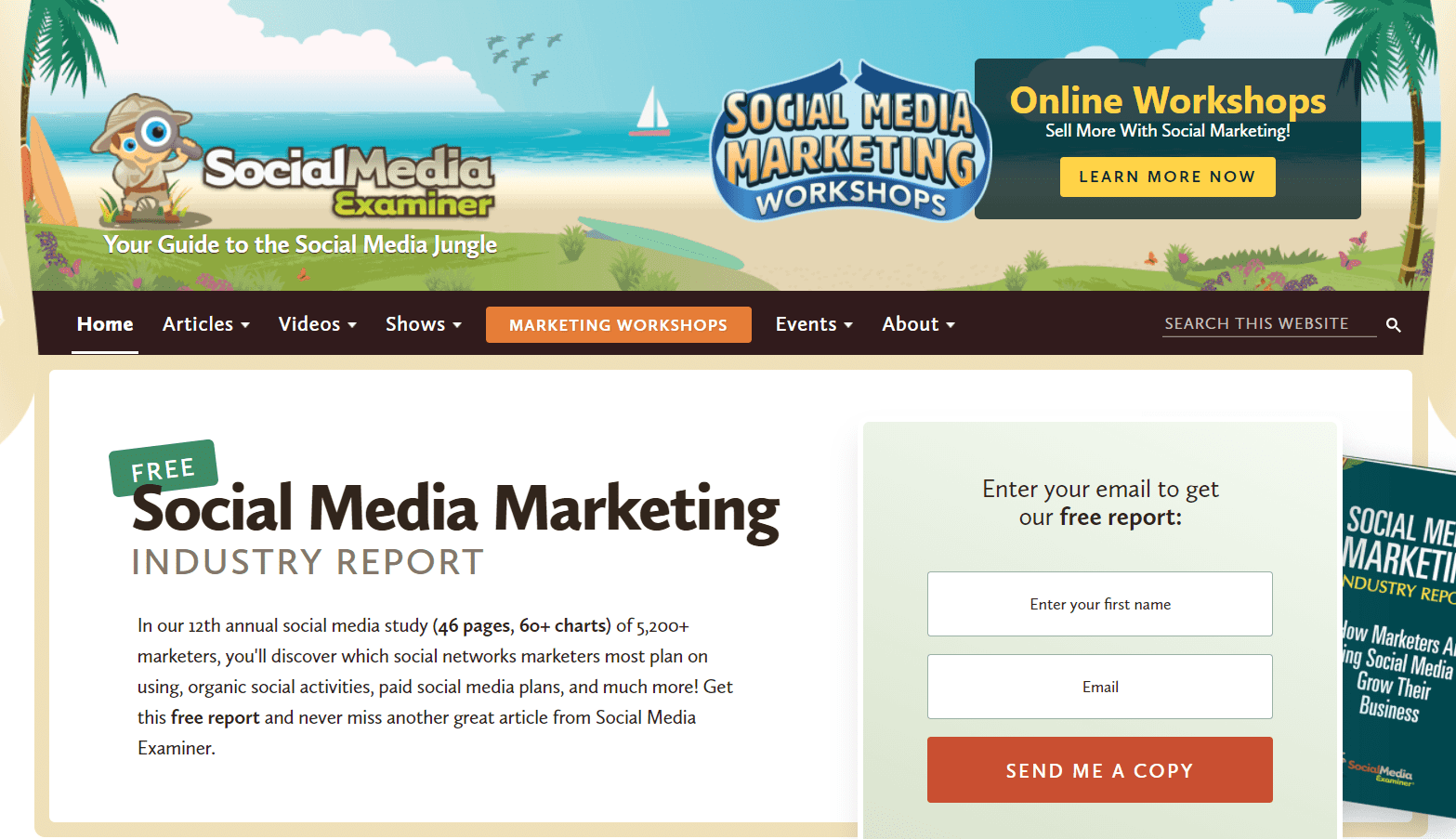 As the name suggests, Social Media Examiner provides an email newsletter covering content from all aspects of social media marketing. It covers topics such as communicating with customers, building a brand, and generating more leads.
The newsletter also provides up-to-date information about changes on specific social media platforms. It provides detailed information of what exactly changed and how to utilize it to your advantage.
Social Media Examiner compiles insights and information from more than 5200 social media marketers, so you're sure to get accurate and high-quality information about social media tips and tricks.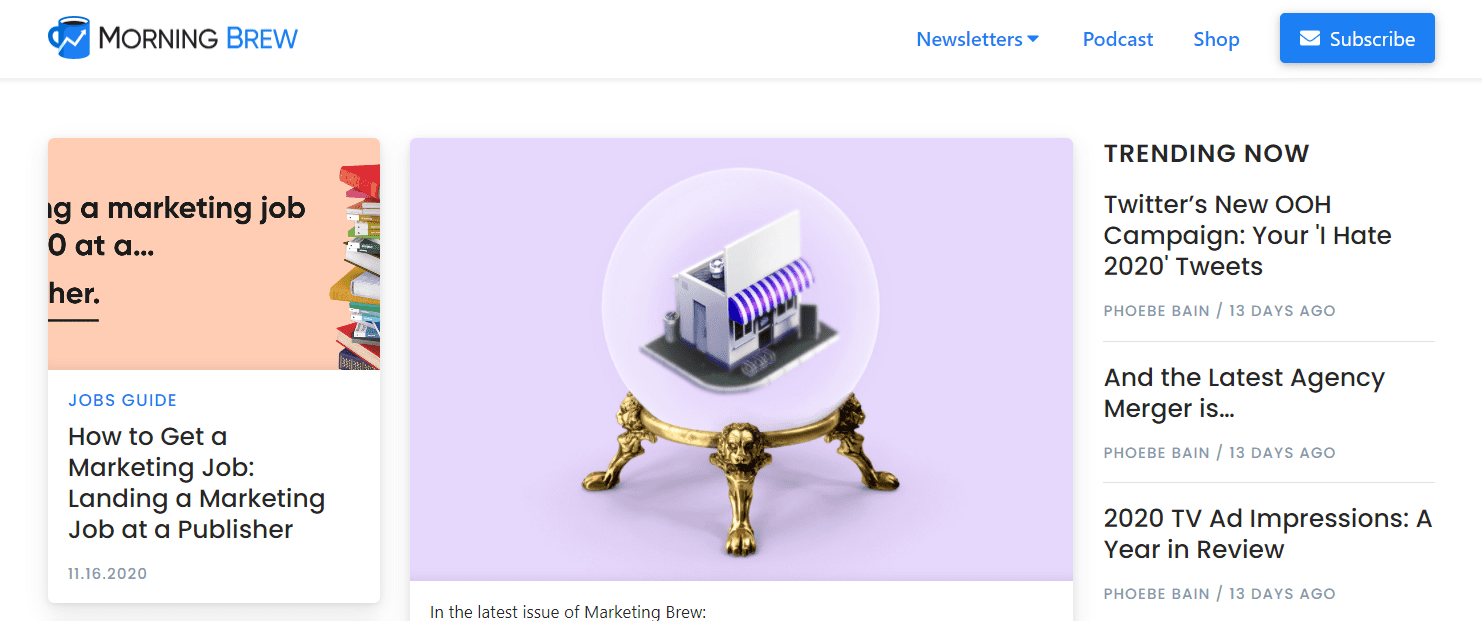 A specialized type of email newsletter, Marketing Brew is a part of Morning Brew, known best for being up-to-date with the latest trends and politics.
Marketing Brew takes the news about the latest trends and politics, then relates it to the marketing world. They send out newsletters every Monday, Wednesday, and Friday, and in them include an analysis of how the trends impact marketing while also providing other marketing-related content.
Not only limited to marketing, but Morning Brew also has other specialized newsletters, like Retail Brew and Emerging Tech Brew.
Marketers like yourself can also take advantage of the Emerging Tech Brew. It gives the latest updates on major players like Google, TikTok, Twitter, and the new emerging companies with huge potential.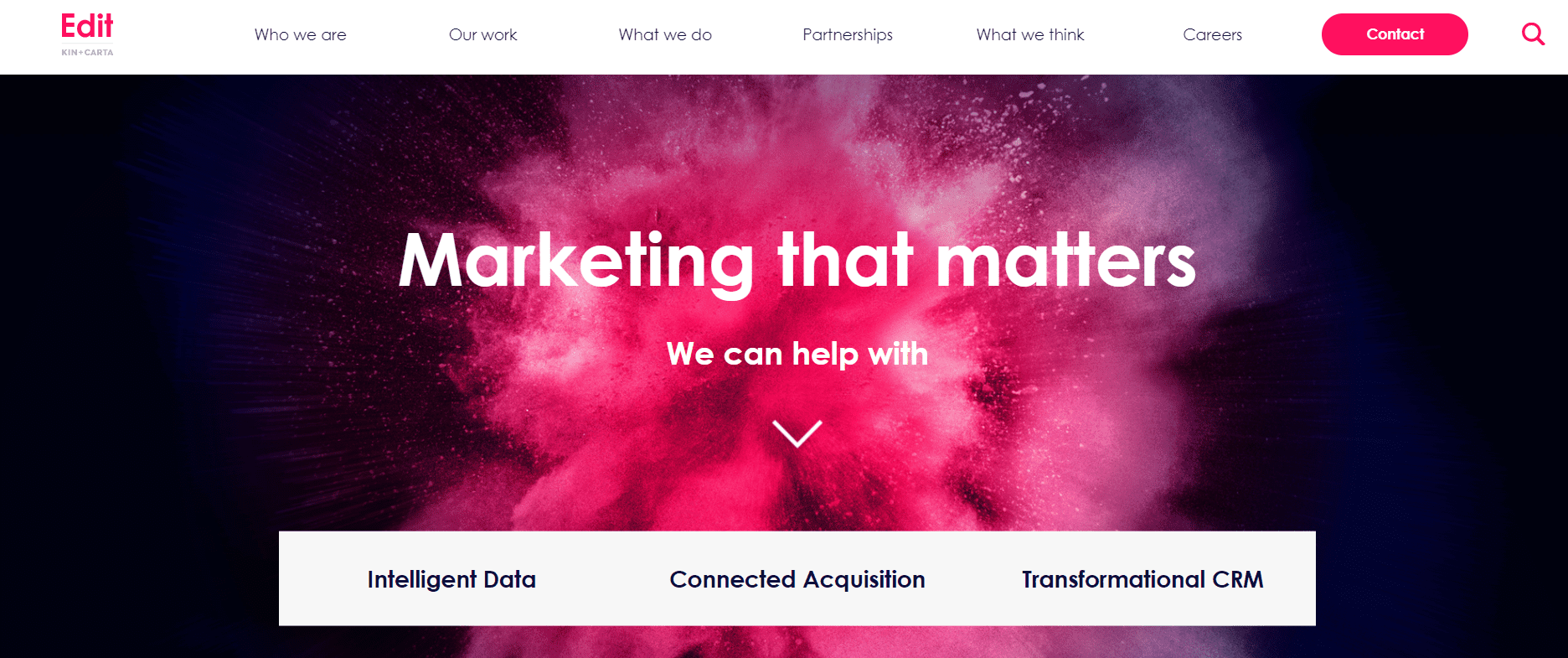 Edit is a British company specializing in delivering great content and data about content and email marketing, SEO, social media, analytics, PPC, Conversion Rate Optimization, best practices, and Digital PR.
The newsletter provides insights from award-winning thought leaders, data scientists, media experts, content writers, and technology architects, so you can be sure to receive the best insight there is about a particular topic.
They aim to provide an in-depth understanding with fewer words, meaning they utilize the intelligent application of data to acquire various insights for a topic, then filter out the noise and focus on necessary information only.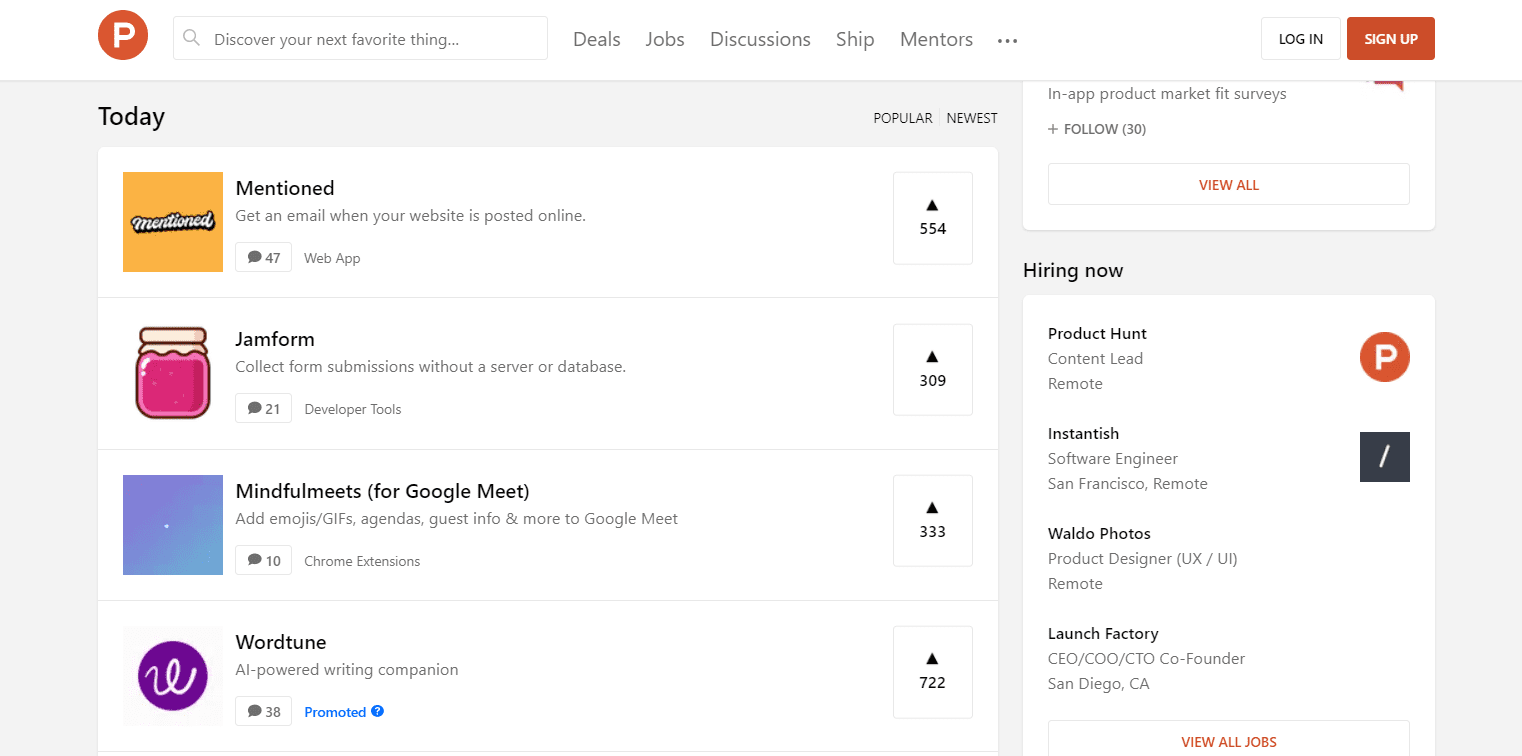 If you're looking for a go-to place to see the best new products released every day around the world, then the Product Hunt newsletter is the closest thing for you. It showcases five to ten top items from the previous day.
Users can share and discover the newest products on their site. Then other users can freely comment and vote on which they think are the best ones. The daily newsletter will curate the list by sending you only the ones with plenty of votes.
Product Hunt also offers marketers insights like seeing what problems users are currently trying to solve and how they are solving them.

Moz Top 10 is a newsletter that provides the ten most valuable articles about online marketing and SEO. The Moz has already garnered a good following because of its all-in-one SEO toolset features that allow users to manage SEO easily.
With thousands of loyal followers, Moz Top 10 shares reliable and trustworthy insights from around the internet in bi-weekly newsletters so that you don't have to go searching for them yourself.
If your job has a heavy emphasis on search engine optimization, then this is a newsletter you should subscribe to.
Chartr, as the name implies, is a newsletter that utilizes charts to deliver in-depth insights about various marketing topics.
They don't just provide news and updates but instead focus more on exciting insights and societal trends. They aim to provide insights that are fun, hoping that marketers can look at data in new ways.
Chartr would give out bi-weekly newsletters filled with fun trends and current relevant news from a different perspective.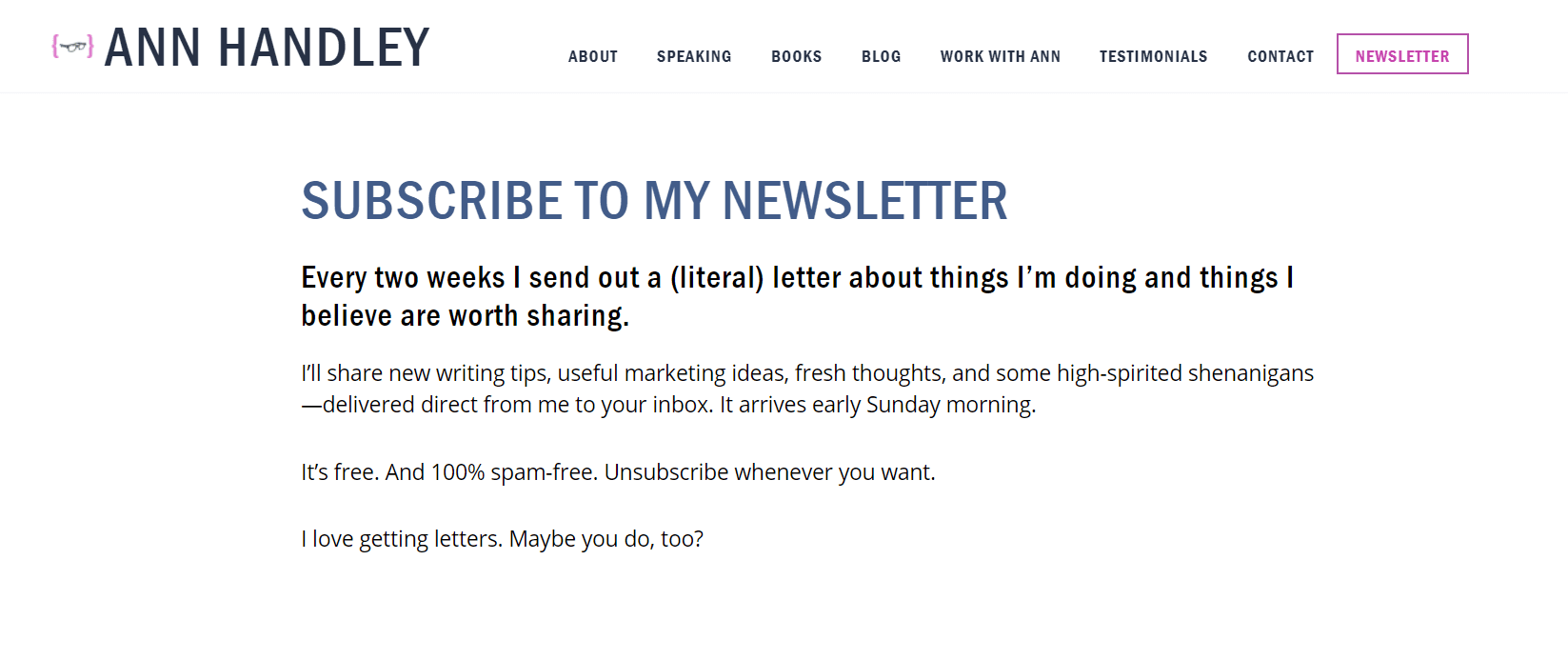 This listicle is heavily focused on marketing newsletters made by companies. Still, there are also excellent newsletters made by individuals, such as Ann Handley – you might know her from her best-selling marketing book about content marketing.
Ann Handley produces and releases her newsletter filled with her thoughts and ideas about specific topics, mainly focusing on blogging and storytelling advice every two weeks.
Not only that but Ann Handley also often shares anything that she feels is interesting and noteworthy.
Because it's her newsletter, the content is fun and easy to read. There is no strict rule on how the newsletter should flow, and you won't find annoying advertising placements in the middle or between the articles.

The Hustle was first thought of to attract millennials to promote the HustleCon, a startup conference. Through the internet and word-of-mouth marketing, it worked. The Hustle marketing newsletter got over 300 thousand subscribers during the promotion of their meeting.
Because of the success, the marketing blog newsletter is now sent daily and delivers cultural and tech topics using a conversational tone by incorporating informal language for millennials. Words like "Lit" and "Dude" are often used in the article, hinting at its casualness.
The newsletter is also visually appealing, making marketers want to know more about the topics being discussed.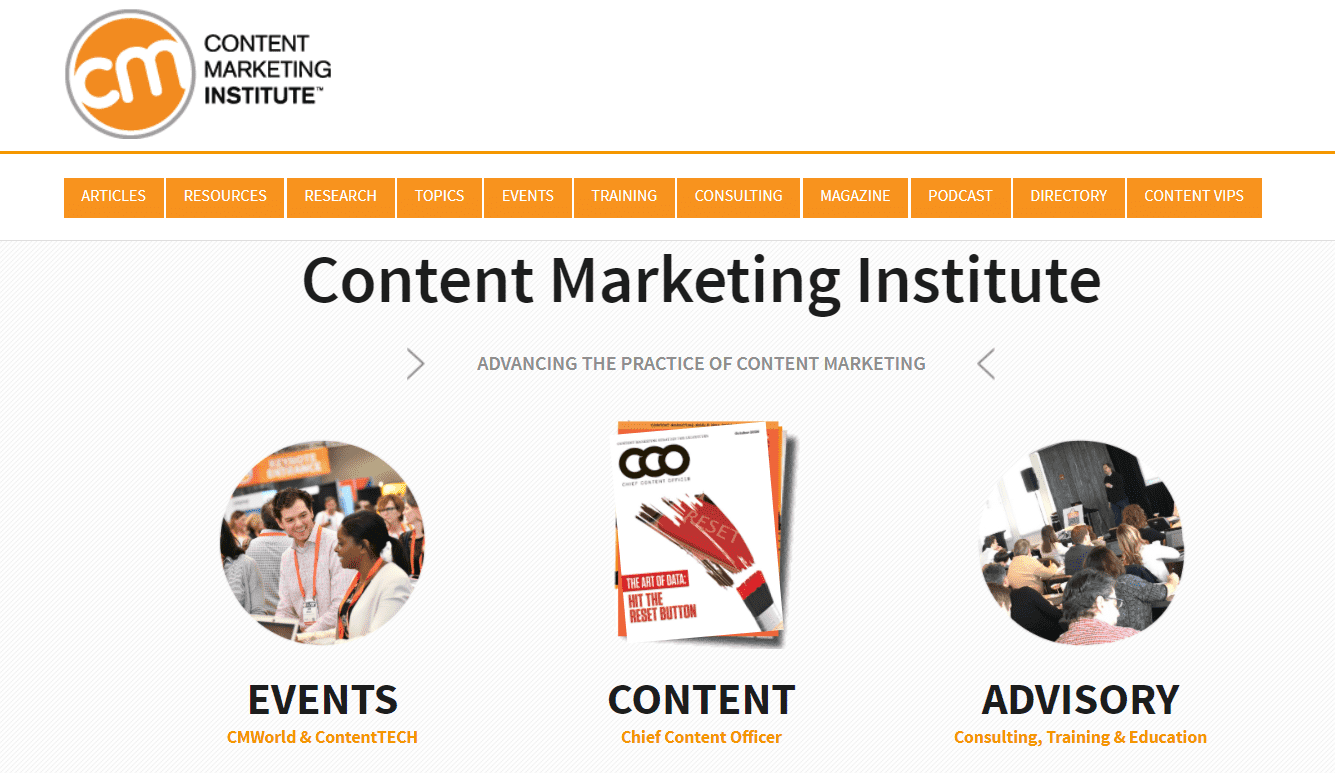 As the name suggests, the Content Marketing Institute emphasizes answering unanswered questions about content marketing on the internet. It delivers quality content on various topics like social media marketing, visual content and design, search engine optimization, marketing strategy, and other content marketing issues.
Content Marketing Institute has over 180 thousand subscribers and is still consistently growing. The founder, Joe Pulizzi, publishes an article a day, and there are related posts from professionals in content marketing.
In addition to that, marketers also get free eBooks, webinars, podcasts, blog posts, how-to guides, and high-quality marketing insights delivered to your inbox. You can filter out the topic range to find the articles you're interested in quickly.
Benefits of Subscribing to Newsletters for Your Marketing Career
Gain access to restricted content – by signing up for marketing-focused newsletters, you'll gain new insights and opinions made by professionals regularly, improving your marketing knowledge.
Discover new articles and content – Newsletters often compile interesting reports and content. You might discover recent articles that you otherwise wouldn't have found.
Stay up to date with the latest trends – Because newsletters are sent out regularly, whether daily, weekly, or bi-weekly, you'll always stay up to date with the newest marketing trends.
Gain new knowledge to incorporate into your marketing strategy – Newsletters from companies, especially professionals, often give out suggestions about tackling the latest trends or issues. This can help you either push through problems or get ahead of the competition.
Become entertained – Newsletters don't only just give out news, but sometimes they would slide in a few funny stories, insights, or gifs just to break up the monotony, so you stay engaged and get distracted for a short time from work.
Conclusion
Now that you know the list of the best marketing newsletters you should subscribe to, all that's left for you to do is start reading.
There's no need to hesitate because most of them are free! Hence you have nothing to worry about, and if you find the newsletter irrelevant to what you do as a marketer, you can easily unsubscribe.
Remember that marketing-related newsletters are essential for you, for your business's marketing strategies, and your marketing skills overall.
If you have any questions, feel free to drop a comment below.