If you are not applying Artificial Intelligence in your content marketing, your competitors will overtake you soon. Does this sound dramatic?
Well, the reality is that Artificial Intelligence continues to play a critical role in helping content marketers in a number of ways. Research has shown that the marketing and sales departments prioritize the use of AI and Machine Learning (ML) higher than other departments in any organization. This proves that marketers and sales managers have come to realize that the future depends largely on data and Machine Learning.
But what role does Artificial Intelligence play in content marketing? In this post, I would like to talk to you about the application of AI in content marketing. By the end of this article, you should have learned how to apply AI, in order to strategize your content marketing approach. We are going to look at different use cases, highlighting how content marketing is changing because of the application of such approaches.
1. Use of Artificial Intelligence to Decide on Type of Content and When to Distribute the Content
Statistics show that 47% of marketers experience difficulties trying to scale up their content marketing efforts. Consider that for content marketing to succeed, as a marketer you ought to know what type of content suits your target audience. Once you have determined the type of content, you also need to know what channels they are using so that you can target them effectively. From there, you should be able to tell the time when to present the content. How do you do this without a proper AI approach? For real, it can be difficult and traumatizing.
However, through the application of Artificial Intelligence, this is no longer an issue. Ideally, AI makes the job easier by ensuring a streamlined content creation. In addition, through AI, content marketers can achieve a much-improved content distribution strategy. This is through the application of AI to decide what type of content suits your audience. It also enables marketers to find out the most appropriate channel to post the content. Moreover, it does not end there! Content marketers are able to determine the most appropriate time to show the content.
So, how does AI enable this?
First, understand that it has the ability to master open forms of communication. In that regard, it will learn your personality and track emotions in social media posts. If you are using an AI-enabled social media-monitoring platform, this embody the brand's voice, helping the content marketer to create content that resonates with the target audience!
2. Refined Ad Targeting Hence Increased Engagements
The sole purpose of using AI to power Ad targeting is to make content marketing meaningful! This is through predicting the potential of every moment. In that regard, marketers are able to deliver amazing experiences to ensure real results. For instance, when a digital consumer visits your website, AI-powered platforms collect every bit of available data regarding that consumer. Therefore, the AI system enables the best decision-making executing the ideal delivery of relevant ads.
The display of the advertisement does not stop when that customer exits the website. Through Artificial Intelligence, marketers can retarget the same customer on social media. This includes showing relevant adverts containing content that suits whatever he or she was searching online.
The result is a higher ROI for running the advertisement. Success is achieved when AI helps to retarget your customers prompting them to take appropriate action. Either calling customer care, adding the items to cart or even clicking on a link!
Therefore, AI-Powered Ad targeting dissects data every minute of the campaign. Through such capabilities, content marketers are assured that their content lands to the eyes of relevant audiences.
3. Use of AI to Deliver Personalized Content
"A person`s name is to that person the sweetest and most important sound in any language" – Dale Carnegie
The success of content marketing largely depends on delivering personalized content! In fact, research has shown that personalized e-mail campaigns receive a higher open rate with more than 40% CTR. Needless to say, if you are not using AI to learn your consumers and deliver personalized messages, you are missing out!
So, how does the personalization factor in content marketing? Customers love it when a product is recommended just for them!
According to Neil Patel, 60% of businesses surveyed adopted a content personalization strategy. The effectiveness is resoundingly high. Content personalization depends on the target audience, and the campaign objectives. Content marketers can rely on AI to collect relevant data. This enables marketers to analyze users and understand their preferences.
As a result of user analysis, content marketers can then predict user behavior. In the end, the content marketer is able to deliver a personalized experience with content marketing.
Over time, marketers realize an increased engagement offering a dynamic increase in sales. Therefore, it is time for content marketers to leverage AI for personalization in their content marketing.
4. Using AI Helps Content Marketers Minimize on Cost While Enjoying a High ROI
Are you currently spending your entire marketing budget on content development and not seeing results?
Start using AI to inform you on the type of content, when and where to post the content. This will ultimately help to minimize the amount spent. Therefore, we see that AI is enabling content marketing campaigns to achieve a higher ROI.
Apart from saving on cost, AI enables content marketers to post content when time is right! This means a higher potential when it comes to maximizing conversions.
For instance, let us say that your target audience comprises of staffs who work from 8 AM to 5 PM. Through AI to spy on their use of social media, you realize that a majority of these users browse Facebook at lunch hour.
Therefore, targeting them before and after lunch hour does not help you so much.
You decide to maximize the amount spent to target them during lunch hour while they are busy checking status updates on Facebook.
This means the amount spent posting content when they are not online is put into better use. Ultimately, you are achieving a high return on investment.
5. Use of AI-Powered Bots to Ensure Content Engagement
A majority of businesses today only think of Chatbots when it comes to customer care. The reality is that Chatbots also helps in content marketing. An AI-Powered Chatbot can help a marketer to respond to a customer through a link to the products page or relevant content that answers the faqs.
Do you consider frequently asked questions to be part of your content marketing strategy? If not, you have been sitting on a huge opportunity!
Consider that by answering the FAQ`s, you can achieve high conversion rates. Most importantly, the speed and accuracy when answering to FAQ`s matters.
Remember that content is useful only if it informs the customers! Moreover, content should be shared when the customer requires it.
The use of Artificial Intelligence for content marketing enables organizations to achieve a 24/7 response to customers! This is through responding to the frequently asked questions.
Chatbots do not need to be used only on websites. Organizations are using Chatbots on social media platforms ensuring customer engagement.
Artificial Intelligence for Chatbots has been the key to the success of many organizations. For instance, KLM has successfully used Chatbots to share content pertaining to flight information. This has helped the airline provide meaningful customer interaction.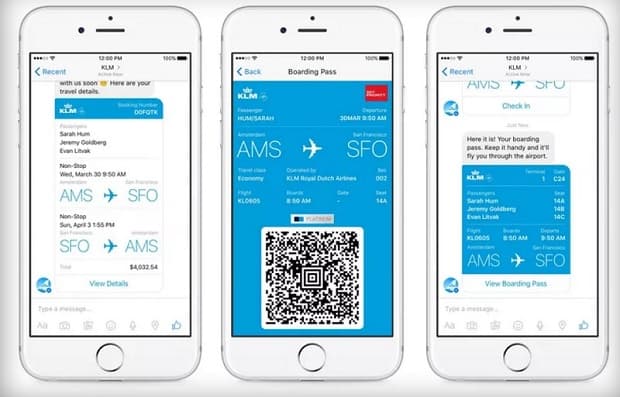 6. Use of AI to Automate Repetitive Tasks
To ensure you are on top of marketing trends today, you need to constantly evaluate and analyze huge data. Most of these repetitive tasks take a lot of your time. However, automation using tools powered by AI helps save marketers time.
This is through utilizing AI-powered tools to analyze and measure web data. Therefore, content marketers can achieve an ability to promote, personalize and optimize their content.
For instance, you can use AI to plan and determine when it is appropriate to share informative content. This helps to optimize the performance of your content marketing campaigns.
The process starts with the ability to assess the present marketing processes. Then, you need to determine which processes require automation using AI. Focus on automating processes that save time and money.
For instance, using AI-powered platforms; organizations can free resources from repetitive tasks, like identifying the best topics and content format, based on real-time data. This allows the content marketers to invest more time and budget on in-depth analysis and reporting, where human intelligence is needed more.
7. Use of AI to Ensure Continuous Content Marketing Improvement
As a content marketer, you always hope that your audience will love your next article. You are not alone. It applies to me as well.
However, using Artificial Intelligence we can achieve continuous content improvement. This is by taking away the guesswork out of content writing.
Through the use of AI and Machine Learning technologies to analyze customer data, helps to deliver intelligent suggestions about the content that will be most effective.
As a result, content marketers can achieve content that their audience expects, and at the exact time when they expect the content. Ultimately, this translates into higher engagements, which means more conversions.
Ideally, AI delivers deep insights into critical customer preferences. This way, content developers can understand the pain points. This helps in coming up with targeted content, which brings about a higher ROI.
AI-Powered systems come with the ability to understand and score content based on user intent. Therefore, the systems can make intelligent suggestions helping the content creators come up with content that is more effective.
What Does the Future of AI Hold for Content Marketers?
Artificial Intelligence will not just augment or automate certain activities in content marketing. It is going to change various aspects of content marketing. Therefore, it is important that marketers understand various skills required to prepare for the transformation that is already happening.
What AI Skills Do Content Marketers Need?
AI usage is not expected to slow anytime. This is particularly when it comes to content marketing and digital advertising. A 2017 report by Salesforce showed that 51% of marketers already use AI.
Therefore, it is time you rethought your content marketing strategy to incorporate the best AI practices. Focus on improving your skills in order to reap the full benefits of AI-powered content marketing.
To ensure you are keeping up with the AI trends consider the following:
How to determine the nature of your customers via qualitative research
How to select the right data sets to examine in order to improve content delivery strategies
Gain knowledge of content analytics
Understand the ethical concerns when it comes to data protection
By focusing on the above skills, organizations can achieve a better content marketing strategy.
Conclusion
Continued scientific advancements in AI continue to enable the automation of tasks. For instance, we see the automation of various aspects within the field of content marketing. Content marketers can now exploit billions of disparate data points. Previously, such abilities stood beyond the functional capability of the human mind. Therefore, the content marketer's paradigm will change to a position where people will provide a machine a set of inputs while the AI engine will create relevant content. This is to ensure the marketing and communication of campaigns across all facets.