Search engine optimization (SEO) is part of all business marketing strategies nowadays. Competing with other brands and larger businesses may seem daunting, but with the help of affordable SEO services for small business, your brand can thrive.
Fortunately, multiple effective SEO services are available to help small business owners without going over their budget.
In this article, I will cover the best SEO services for small businesses. These are efficient yet affordable SEO services small businesses can use to increase their site ranking.
However, if you prefer hiring a professional SEO service, I'll also give you some tips to find the best SEO agency for your needs. Let's check them out.
What Is SEO for Small Businesses?
SEO is a set of planned strategies that focus on optimizing websites to increase their search engine visibility. Through its continuous process, SEO aims to drive organic traffic to the site, generating brand awareness, increasing sales, and keeping repeat customers.
Using the right SEO service, your business website can increase its ranking on search engine results pages. Thus, small business owners improve their brand recognition and gain site traffic, increasing conversion rates.
Types of Affordable SEO Services Small Businesses Need
After understanding how important SEO is for small businesses, let's move to the types of affordable SEO services that your business needs. Small business owners can implement these five SEO services, each with their different activities, for their business.
The five SEO services for small businesses in this article include on-page, off-page, local, white-hat, and technical SEO. Each of the SEO services consists of more specific strategies to implement.
1. On-Page SEO
As the name indicates, on-page SEO focuses on optimizing each of your web pages to get them to rank higher on search engine result pages (SERPs). All the SEO efforts are within your website and revolve around the site content and HTML source code to improve the site's overall ranking and user experience.
On-page SEO is an effective and easy-to-implement strategy for small businesses. For that reason, it should be the first affordable SEO service you should focus on.
So, here are six SEO services and strategies you should consider to improve on-page SEO.
Use Keywords Strategically
Keywords are an essential part of SEO. They help optimize your website content according to the industry where your small business operates and what your potential customers are looking for.
Start keyword research using affordable SEO services like Ubersuggest or Google Keyword Planner to generate a list of relevant keywords. List the web pages you want to focus on, then start matching them with keywords.
You can add keywords to blog posts, headers, title tags, page content, and the landing page. Content with relevant keywords helps search engines know what it is about, resulting in better site ranking and increased organic traffic to your small business site.
However, distribute the keywords naturally around the content to implement the proper keyword density and avoid keyword stuffing.
Optimize Content
Content SEO is an on-page SEO strategy that helps to provide content that aligns with the visitors' search intent, which is the searcher's goal. There are four types of search intent: informational, navigational, transactional, and commercial.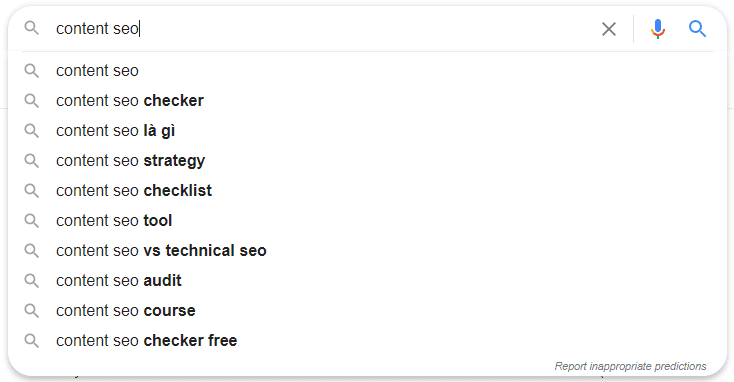 To optimize your site content, match the keywords you researched to the appropriate search intent. If you are not sure about the intent behind a keyword, simply check the top-ranking results. They will help you understand what users are searching for.
Optimizing your site content is all about relevancy. In addition to conducting keyword research, it is essential to provide what your website visitors are looking for through original and well-structured copy, images, and headlines.
Add Images and Alt Text
Adding images to your website helps give context to your text and keep visitors interested, lowering bounce rates. It is also a chance to improve SEO since your images may even appear on image search results.
To make the best use of images, make sure you upload the proper image formats and sizes. If you use too large images, for example, you risk slowing down the website and damaging user experience.
Additionally, be straightforward and descriptive when naming the image files, separating each word with hyphens. If possible, include keywords, but be careful not to overdo it.
Just as important as adding images to the website is making sure they all have an alt text. It is an HTML attribute that helps search engines understand what the image is about but also provides a description that screen readers can use for better accessibility.
Additionally, image alt tags are shown if the picture fails to load, providing visitors a text description instead.
Use free SEO services like SEOptimer's Alt Tag Checker to scan your site and find if there are any images missing their alt texts.
Optimize URLs
Well-structured URLs help search engines locate and identify your web pages better.
The basic rule for URLs is that they should clearly tell visitors and search engines what content they will find on your site pages. Use simple and short terms, lowercase letters only, and hyphens to separate words.
To effectively optimize URLs, start by including one keyword relevant to the page content. Find the right keyword to use with a free service like Google Keyword Planner.
Use Internal and External Links
Internal links help visitors to easily navigate the website. They create better user journeys that start from the landing page to the FAQ, About Us, or checkout page.
Additionally, they show the search engine how the site's pages are related, simplifying the crawling process.
As for external linking, they help you provide high-quality content for the audience. However, in order to accomplish that, it is essential to only use links to credible sources.
Affordable SEO services like Moz's Domain Analysis help you make sure you are linking to trustworthy websites. If the site scores between 70 and 100, you'll know it is a great source for external links.
However, make sure the links are relevant to your content. Also, even though there is no right number, adding too many links may affect the text's readability.
Ensure the Website Is Mobile-Friendly
On-page SEO strategies also include your website's mobile version. That's because Google has implemented a mobile-first approach, prioritizing mobile-friendly websites on its search result pages.
In addition to that, making your website mobile-friendly creates an improved user experience. You're making sure that the website loads fast and its design adjusts to the user's device. In return, your website can rank higher on search engine results pages.
A mobile-first approach includes a mobile-friendly design, image optimization, link placement, and several other aspects. When all is set, use Google's Mobile-Friendly Test to monitor the site's performance and check what needs improvement.
FAQ Pages
A well-optimized FAQ page is a great and affordable SEO service to provide information for your audience and increase the overall user experience.
To create an effective FAQ page, list the main questions your customer support team receives from the audience. Additionally, check brand mentions and conduct keyword research to get insights into what people are asking.
Add relevant keywords to both the questions and answers. Also, make the content clear and informative, using visuals to make important information stand out.
Take the opportunity to include internal links to help visitors navigate the site and increase ranking opportunities. If your FAQ page ranks on Google, the link will be there as well.
If you need ideas on how to structure your FAQ page for better SEO, check out YouTube's FAQ page.
2. Off-Page SEO
Off-page SEO involves actions taken outside of your website to help it rank higher. It uses other reputable platforms, like websites, blogs, or social networks, to drive traffic to your website.
Here are six off-page SEO strategies and services you should consider using to boost the rankings of your small business site.
Brand Mentions
Brand mentions boost SEO through link sharing on websites and mentions on social media, also improving brand visibility and reputation. To increase your brand mentions, make sure that your content, links, and related media are well-written and optimized.
Start by creating and maintaining high-quality content on your online platforms. Then, grow your social presence and nurture engagement.
Another essential aspect is to connect with other brands related to your business. Google sees backlinks as proof that other reputable brands trust your business.
Affordable SEO services for small businesses include Monitor Backlinks and Ahrefs Backlink Checker. They will help you find backlink opportunities and also make sure that they all work properly.
Commenting
Commenting is a budget-friendly strategy that connects you to the audience and nurtures potential leads. You can also use this strategy to maintain relevant backlinks, but be careful not to adopt a spammy strategy.
As a website owner, enabling the comment section on your blog posts allows you to communicate with potential customers and brand partners. It also keeps your site active, thus showing it is a relevant source and, consequently, helping to increase the site ranking.
When commenting on other people's blog posts or social media, make sure the backlink is relevant to the content and avoid link schemes so that the website doesn't get penalized by search engines.
Community Outreach
Community outreach means getting in touch with influencers, users' forums, and other influential communities to promote your website or specific products. In return, you gain website traffic, brand trust, and new customers.
This marketing strategy is all about creating content for the right audience. Use platforms like Instagram or Buzzsumo to find influencers that are relevant and match your small business brand.
While working with influencers may not seem like an affordable SEO marketing strategy at first, keep in mind that the number of followers is not a determining factor. It's more important to establish meaningful and authentic relationships.
Also, take the time to join forums and answer questions related to your brand or industry. It will help to show your expertise and experience in the field. If possible, add links to your website to drive traffic and attract potential customers.
Newsletters
Thanks to the rising number of active email users, newsletters are an efficient and easy-to-implement SEO strategy. Besides gaining website traffic, sending newsletters helps a small business improve communication, build relationships, and increase sales conversions.
However, using newsletters for effective communication requires the right timing and insightful content. Provide information for your audience, whether it is about new products, updates, or how to use your services.
Keep in mind that content that is excessively promotional may make your subscribers lose interest. Regardless of that, always provide an unsubscribe link.
Newsletters also provide another great opportunity to put your keyword research in use. Include optimized, high-quality content and don't forget to include relevant links.
To make a budget-friendly newsletter, consider platforms like Mailchimp, which offer free services for small business projects.
Guest Posting
Guest posting is about writing blog posts on other websites, usually brands related to your business and non-competitors. It helps bring in new readers, potential leads, and makes your small business brand more trustworthy.
It's also an effective long-term link-building strategy. That's because Google sees links to your small business on other websites as a vote of credibility, which positively impacts your search engine optimization efforts.
Guest posting also works the other way, where you allow others to write on your website. The same way you would do with external links, make sure to choose reputable brands and only post original content.
Choose websites to guest post to via Google search results, LinkedIn, or popular platforms like Medium. Then, pick the topic, type of content, and prepare a list of keywords. Add internal links and keywords, and adjust your content according to the other website's guidelines.
If you use WordPress, an affordable option is the Guest Author plugin. It makes the process of receiving guest authors easier.
Social Networking
Using social media platforms to connect, engage, and build meaningful relationships with the audience is not a new idea.
However, as a part of digital marketing, social networking is cost-free and effective when done correctly. Make use of your social media followers and daily engagement to drive your website growth in the long run.
When it comes to search engine optimization, social media marketing is not really a ranking factor. However, it contributes to increasing the number of positive brand mentions, improving your site's ranking.
The biggest challenge of social media marketing is providing the content your followers want and competing with the changing algorithm.
Thus, start by committing to a regular post schedule. Include as much information as you can about your business and prioritize interacting with your followers. Create and share compelling visuals while still focusing on content quality.
Luckily, most platforms provide analytics for business users. It is a great and affordable way to learn about your audience and content performance.
3. Local SEO
Local SEO focuses on location-based efforts to gain more local traffic. As a small business owner, it is essential to promote your brand to a local audience. To do so, here are five local SEO services and approaches to consider.
Use Google My Business
Google My Business is a free and easy-to-use service for small businesses to boost local SEO. It helps users locate and obtain other information about your business and lets search engines see it is legitimate.
Creating a Google My Business profile makes your website appear on search results according to the user's search query and location. The information is also integrated with Google Maps and Google Reviews.
When registering your business, fill out all the business details so Google can rank it according to its location, relevance, and reputation. Remember to update your business information regularly. Most importantly, pay attention to ratings and reviews, as they are a great opportunity to answer questions about your products and turn users into customers.
City-Specific Landing Page
Also called a local landing page, this SEO strategy targets a specific, location-based audience to increase page ranking locally. It works for small businesses operating in several locations and conducting a local marketing campaign.
The city-specific landing page is separated from your main website to give you a chance to provide location-specific services. To successfully make a local page that converts, in addition to using Google My Business, narrow your keyword research to that location and audience. Use Google Analytics to help.
When creating the page, keep it simple and only create one web page per location. Add relevant keywords and adjust the title tags, meta description, and content accordingly.
Remember to optimize the landing page for mobile users and, if possible, create unique offers for each location to grab the audience's attention.
Build Online Reviews
Online reviews help your website rank better on SERPs. Small businesses benefit from online reviews as they can establish genuine customer relationships, increase trust, and improve business performance.
Additionally, online reviews influence potential customers into making a purchase. In the long term, happy customers become brand ambassadors, influencing others to become your customers as well. Therefore, it's essential to nurture positive reviews for your business.
To do so, create a profile for your business on a platform like Trustpilot. Or use more affordable services for a small business like Google My Business. Respond to all feedback objectively and transparently.
Also, promote your ratings on the website or social media for social proof, another aspect of SEO companies shouldn't overlook.
Local Link Building
Local link building, or local backlinking, is building relevant links within your service area, which has a better chance of conversions happening. This link-building process uses local traffic and audience to drive traffic and brand authority for your business.
Your local link-building strategy should start by promoting your city-specific landing page. This will help other local websites and users find and promote your business.
Search for brand mentions using Mention. Contact the other websites and ask them to add links to their content. You can also consider guest posting to build a stronger relationship.
Additionally, you can also host workshops or other local events to gain links locally. Promote them on social media and pay attention to local influencers you can partner with.
4. eCommerce SEO
eCommerce SEO involves optimizing your online store site. Here are three affordable ecommerce SEO strategies to implement.
Use a Sitemap
A sitemap is your website's blueprint. For SEO, a sitemap helps search engines find, index, and crawl your website content more easily. It also shows how often you update the site and how the website pages are related.
If you use WordPress, choose plugins like XML Sitemaps or Yoast SEO for easy sitemap creation. If not, use tools like XML-Sitemaps to help you in the process. Once you are done, submit your sitemap to your Google Search Console account.
Sitemaps are an affordable small business SEO strategy that helps inform search engines about recent updates on your eCommerce site.
Focus on Content
Content marketing also provides significant benefits for an eCommerce website. It helps improve website quality and increases customers' interests. Just like other types of websites, it should be applied to your entire website, from product pages to blog posts.
To optimize your content and copy, prepare a list of relevant keywords for the copy and image alt texts. Research your competitors to know what they are ranking for and to brainstorm content ideas with a tool like Semrush's Topic Research.
Optimize Product Listing
Optimizing the product pages boosts product sales, thanks to an improved product display, categorizing, and listing. It helps SEO through clear page navigation and product organization.
By optimizing product titles, orders, and categories with relevant keywords, you also get more and better traffic. Don't forget to add engaging images and alt texts following on-page SEO best practices.
For product descriptions, use bullet points and keep the sentences short. Add long-tail keywords on both your product titles and descriptions for better ranking chances.
If possible, include customer reviews for social proof.
5. Technical SEO
Technical SEO focuses on optimizing the technical aspects of your site. It's a tedious task yet affordable and beneficial in the long run. Here are four technical SEO strategies you should adopt.
Use Structured Data
Using schema markup for SEO is similar to creating a sitemap – it allows search engines to read your website content better.
Schema markup, often referred to as structured data, uses HTML to compile relevant data and improve search engines' indexing capabilities. Structured data uses vocabulary from Schema.org and can be used to provide additional information for events, organizations, people, products, and much more.
Use a structured data markup helper to start the process. Then, select the type of data to highlight. Paste the content link and highlight the part to markup. Create the HTML markup and add it to your website. Finally, test your schema using the Structured Data Testing Tool.
Add SSL Security
Aside from protecting your site and users' data, adding an SSL certificate also benefits SEO. The certificate turns your HTTP into HTTPS, which ranks better for Google search. It's becoming a standard practice for websites, and you should do this too.
In some hosting services, SSL security is already included within the hosting plans so that you can gain an instant SEO boost. If not, you only need to purchase a separate SSL certificate.
Fast Loading Time
A fast loading time is one of the first things to focus on. Fast-loading speeds reduce visitor bounce rates, improve user experience, and increase website ranking. Your web page loading speed depends on several factors, some of which you can control.
Start by using the right web hosting services. Your website should have enough resources to handle daily traffic and unexpected surges. Another way to do it is by improving web caching and optimizing website images.
If you use WordPress, plugins like WP Super Cache help with caching – however, too many plugins may slow down the site. Additionally, compress images and use services like GTmetrix to see how the site is performing and get optimization tips.
URL Structuring
From the URL itself, visitors should know what content to expect. For search engines, a good URL structure allows better indexing and understanding of how your pages connect.
Always take the time to create unique, clear, and concise URLs. Use focus keywords, hyphens to separate words, only use lowercase letters, and follow the standard URL structure.
How Much SEO Costs in 2021?
Small businesses rely more on affordable SEO services for continuity. Therefore, understanding how much SEO costs in the long term is essential to keep an efficient marketing budget.
On average, hiring SEO agencies costs from $750 to $2,000 per month. In most cases, SEO companies charge per hour, in which case you may expect to pay from $80 to $200 per hour.
However, the price varies depending on the business size, your SEO goals, and the project timeline. Therefore, it's important to establish your goals and know exactly what you want to achieve with the help of the agency's SEO experts.
Tips For Hiring an SEO Agency
To maximize profit and minimize risks or miscommunication, here are five tips to help you hire the right SEO agency for your small business:
Define your needs and budget. As a small business owner, establish how much you can spend on resources, including SEO. If you're planning to hire SEO experts, plan the project carefully to see how much SEO works you need and align it with your budget.
Approach multiple SEO agencies. Don't limit your choices to one or two SEO companies. Research and approach various SEO agencies to find the best alternative for you.
Learn about the SEO agencies' strategies and approaches. This process is about learning their capabilities, tactics, metrics used, and checking other client reviews. Understand their SEO techniques and if they fit your business needs. Ask about their SEO packages and costs.
Understand their content marketing strategies. Understand what the SEO companies offer in digital marketing strategy – link building strategies, previous SEO campaigns, and how they structure their work for a business website.
Conclusion
This article has covered five SEO approaches along with affordable SEO services for small businesses. These SEO best practices are aimed to improve page ranking on Google's search results pages and increase conversions.
Keep in mind that SEO is a long-term project. To stick to your budget and obtain successful results, make sure to choose the right SEO services for your business.
While there are many tools and affordable SEO services to help you work on it in-house, it might be necessary to hire an SEO consultant or agency to take your projects even further.
In that case, research SEO companies thoroughly and check if they fit your budget and website planning. Understand that it may take some time to see results – the key is being consistent. Good luck.